Yeti Hopper M30 Soft Cooler
Our carry-the-day, tough-as-nails Hopper soft cooler has one big update. We've re-engineered the opening to offer a wide mouth for easy loading and unloading. It closes almost on its own with our HydroShield Technology - a strip of ultra-strong magnets - then is secured with two Quick-Release Buckles to ensure it can withstand being tossed around. Outside Dimensions: 25 in. x 12 in. x 17 1/2 in.. Inside Dimensions: 10 in. x 22 in. x 16 in.. Empty Weight: 7 lbs. Hydroshield Closure: Uses powerful magnets to create a leak-resistant seal.. Coldcell Insulation: Closed-cell foam offers impressive cold-holding capabilities, helping keep your frosty goods ice cold.. Dryhide Shell: High-density fabric resists mildew, punctures, and UV rays.. Leakproof Liner: RF-welded seams eliminate stitching and provide a leakproof interior liner and waterproof exterior.. Hitchpoint Grid: Easily attach pretty much anything, including the MOLLE Zinger & MOLLE Bottle Opener.. Spot clean. Imported.
---
Related Products
Tough enough to stand up to any adventure-with an updated design that includes a top handle for easy carrying-the YETI Hopper Flip 12 soft-sided cooler keeps reinforcements fresh for days.
---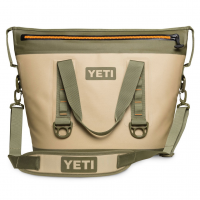 ---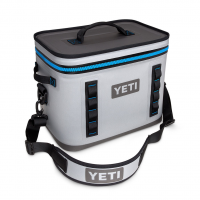 The weekend is young, so pack up your new Hopper Flip 18 and head for the hills. The bigger build suits your larger hauls and longer expeditions. Set out with your lunch while you work for your dinner, and have a couple cold ones to kick back with after....
---
The YETI Roadie is BYOB's new best friend with a capacity of up to 14 cans with recommended 2:1 ice-to-contents ratio. Ice stays ice thanks to up to 2 inches of PermaFrost Insulation and an extra thick FatWall design which is certified bear-resistant....
---
Retro-style bottle opener perfect for the hunting cabin, fishing camp, or man cave. Can mount directly to your YETI Tundra, wall, table or boat dock. Rugged design, made of cast stainless steel, provides premium durability and makes opening bottles easy....
---
Keep your multitools or bottle openers within arm's reach with the MOLLE Zinger. Perfect The MOLLE Zinger easily attaches to your YETI Hopper HitchPoint Gridfor Hunting Cabin, Fishing Camp, Man Cave, or Out Tailgating. Its retractable cord is made from...
---
MULTI-FUNCTIONAL - The waterproof, puncture-proof, Camino Carryall is designed for whatever the day throws your way. Perfect tote bag for the boat, lake, pool, beach, camping or road trips. Easy to haul your gear and easy to clean, the Camino Carryall...
---
TOUGH & TRUSTWORTHY - Bring on the downpours and the float trips, because the SideKick Dry is built to take on anything.. DRYHIDE SHELL - Similar durable materials and construction as high performance whitewater rafts.. HYDROSHIELD CLOSURE - Uses powerful...
---