Swix Bc Tour Xc Poles
The SWIX BC Tour XC Pole is the pole to grab for cruising along groomed trails. Lightweight aluminum shaft. Touring handle with easily adjustable, shaped strap. Large basket that lets you plow through deeper snow. Ideal for groomed trails; classic and cruising skiing
---
Related Products Lightweight poles with versatile touring baskets, the Swix Classic TR400 ski poles are perfect for all-around recreational touring. . Lightweight, durable performance poles made from stiff 5086 aluminum. 16 mm ergonomic PC handle provides a comfortable...
--- Tuneup with one ski/board waxing brush that features both bronze and nylon bristles. Different bristle coarseness for ski/board base prep before and after waxing. Half nylon soft bristles. Half bronze coarse bristles. All round bristles
---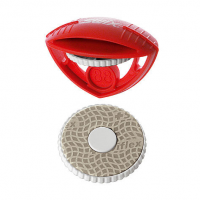 The Swix Diamond Disk Tuner allows you to sharpen dull or nicked metal ski/snowboard edges right on the slope. . 88 or 89 degree sharpening for fixing edges quickly. Fits into your pocket or pack so you can conveniently use it when you need it. Housing...
---