Sockwell Men's Twillful Compression Socks
The Men's Twillful Compression Socks from Sockwell are specifically designed to maximize circulation, minimize swelling, reduce fatigue, and speed up recovery in your feet. The socks feature a multi zone, anti-fatigue design. With 15-20 mmHg of therapeutic compression, these socks will minimize varicose veins, while preventing leg and foot swelling. 32% Merino Wool, 32% Nylon, 31% Bamboo Rayon, 5% Spandex. Engineered to maximize your circulation. 15-20 mmHg Compression Rating. Natural thermoregulation. Moisture management. Durable and Breathable. Antibacterial. Blister-proof. Arch support keeps your foot comfortable all day long. Seamless toe closure so your toes won't get irritated. Ultra light cushioned sole. Ideal for: Prolonged sitting or standing; flying and travel; exercise and recovery; minor to moderate swelling of the feet. Machine wash. Imported.
---
Related Products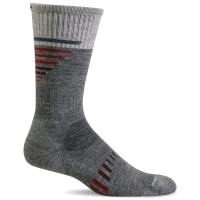 Because compression doesn't have to mean cramping your style, the Men's Ascend Crew 2 Compression Socks look as good as they fit and feel.. . . . . Accu-fit Technology. Turn Welt Top. Graduated Compression . Arch Support. Breather Panel. Seamless...
---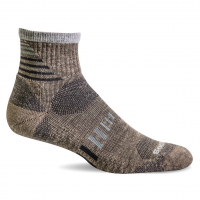 As a wellness brand, our goal is to provide you with both physical and emotional comfort. We don't believe in making "just socks." We believe in making socks that improve the quality of your day by giving you more comfort in an uplifting, beautiful design....
---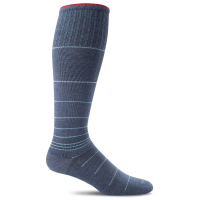 Energize your step and recover quickly in the sock that started it all! The Circulator is our most beloved moderate (15-20 mmHg) graduated compression sock, with a timeless yet modern stripe design-a nod to the style's four zones of compression. Featuring...
---