Sawyer Complete 4L Water Treatment System
Sawyer Camp & Hike Complete 4L System SP184. Simply set up the Sawyer water filtration system and let gravity provide you with 4 liters of fresh clean water in about 3 minutes. Each filter has a lifetime warranty as long as you follow the simple care and use instructions. Follow the helpful hints included in the directions for use. Backwashing is not required often unless you are filtering very turbid water. Backwashing only takes a few seconds. If you are accustomed to a ceramic filter the leaning ratio is approximately 20:1. In other words by the time you first need to clean your hollow-fiber filter you would have neeeded to clean a ceramic filter 20 times. NO REPLACEMENT FILTERS OR CARTRIDGES ARE NECESSARY. We trust you will thoroughly enjoy the ease and extra protection this proven next-generation technology offers you.The Sawyer Water Filters feature a 0.1 Micron Absolute Hollow Fiber Membrane which uses medical technology developed from kidney dialysis. When the water is drawn through the filter it flows through the side walls of the Hollow Fiber tubes. Sediment bacteria protozoa cysts and other contaminants are filtered out exceeding all applicable EPA recommendations. NO CHEMICALS NO WAITING NO PUMPING NO WORRIES
| Stockist | Catalogue Product Name | Price | |
| --- | --- | --- | --- |
| CampSaver | Sawyer Complete 4L Water Treatment System | 134.79 | |
Price:
134.79 from
CampSaver
---
Related Products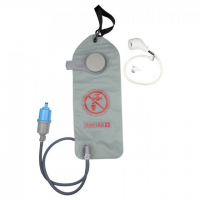 Sawyer Camp & Hike 2 Liter System SP161. Simply set it up and let gravity do the dirty work. No tedious pumping just set it and forget it. In the time it takes you to turn around and unload your pack you'll have clean fresh water waiting. Each filter...
--- The Sawyer Squeeze Water Filter has a field weight of only 3 oz., and it makes filtering water as simple as filling a pouch and squeezing water into your mouth. No pills, no pumps and no wait time.
---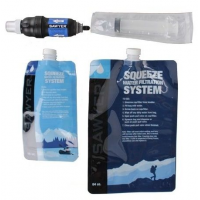 Sawyer Camp & Hike Point One Squeeze Water Filter System SP131.
---