Rossignol Xt-700 Touring Ski Poles
The XT 700 is a lightweight and durable 5086 aluminum touring pole. Features a bi-injected grip, standard strap, and touring basket.. . Size Available: 130, 135, 140, 145, 150, 155, 160, 165. Strap: Standard. Basket: Touring (Black). Tip: Steel Tip. Shaft: Alu 5086. Grip: Plastic. Imported.
---
Related Products Bridging the gap between off-trail and backcountry touring, the EVO OT 65 features wider dimensions and partial metal edges for increased off-trail versatility and control. Smaller, more accessible sizes allow for increased maneuverability, while waxless...
--- Designed for entry-level skiers at an affordable price point, the EVO GLADE 59 AR features smaller, more accessible sizes for increased maneuverability and control. Waxless AR Plus bases provide a good blend of grip and glide with no prep. Compatible...
---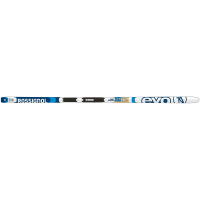 A user-friendly, waxless touring ski, the EVO TOUR 60 is designed for recreational skiers and active winter enthusiasts. Smaller, more accessible sizes allow increased maneuverability and control, while waxless Positrack bases provide the best blend of...
---