Rossignol Evo Ot 65 Ifp Positrack Preassembled Skis
Bridging the gap between off-trail and backcountry touring, the EVO OT 65 features wider dimensions and partial metal edges for increased off-trail versatility and control. Smaller, more accessible sizes allow for increased maneuverability, while waxless Positrack bases provide the best blend of grip and glide in all snow conditions. Compatible with the new Turnamic(R) binding system for unparalleled snow feel.. . LCD Core: Rossignol's exclusive Low-Density Core construction features a lightweight wood core with air channels for lightweight strength and energy.. Partial Steel Edges stop short of the tip and tail to increase control and edge grip underfoot while retaining good glide and a lighter weight.. Active Cap: Rossignol's Active Cap construction combines ROSSICAP and multi-directional fiberglass for a supple flex from tip to tail to glide over uneven terrain and increased torsional rigidity for enhanced control.. Medium Sidecut enables versatile on- and off-track skiing. Size Available: 165, 175, 185, 195. Main size: 175. Weight: 31.75 oz. (900g) / 175. Construction: Active Cap. Core: Wood core / Air channel. Base tuning: Positrack. Plate: IFP. Imported.
---
Related Products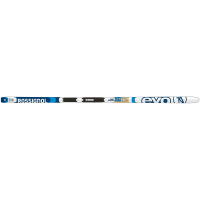 A user-friendly, waxless touring ski, the EVO TOUR 60 is designed for recreational skiers and active winter enthusiasts. Smaller, more accessible sizes allow increased maneuverability and control, while waxless Positrack bases provide the best blend of...
--- Designed for entry-level skiers at an affordable price point, the EVO GLADE 59 AR features smaller, more accessible sizes for increased maneuverability and control. Waxless AR Plus bases provide a good blend of grip and glide with no prep. Compatible...
--- Thislightweightskiisgreatforofftrailexploringandlighton-trailuse.Thelowmaintenancewax-lessPositrackbaseprovidessuperiorgrip,whilethefulllengthmetaledgesandtallercamberheightprovideoffandontrailversatility.. . Fullmetaledges. WaxlessPositrackbase. ForuseinNordictracksandthebackcountry....
---