Rossignol Evo Glade 59Ifp Ar Cut Preassembled Skis
Designed for entry-level skiers at an affordable price point, the EVO GLADE 59 AR features smaller, more accessible sizes for increased maneuverability and control. Waxless AR Plus bases provide a good blend of grip and glide with no prep. Compatible with the new Turnamic(R) binding system for the most natural ski flex and snow feel.. . Rossignol's Wood Air Core construction offers durable off-trail performance with air channels for reduced weight. Rossignol's waxless AR Plus base structure features a finished base with negative (cut) kick surface for the perfect blend of grip and glide in all snow conditions. The exclusive Short Size concept guarantees increased maneuverability, control, and ease-of-use while making skating movements more dynamic. Size Available: 166, 176, 186, 196. Main size: 176. Weight: 26.46 oz. (750g) / 176. Construction: Lacquered sidewalls. Core: Wood core / Air channel. Base tuning: Double Cut. Plate: IFP. Imported.
---
Related Products This ski package is great for the novice cross country skier who focuses on groomed tracks. The lightweight Wood Air Core provides support and propulsion, while the Double Cut Base offers low maintenance fair gliding properties.. . Cross Country. Wood...
--- Bridging the gap between off-trail and backcountry touring, the EVO OT 65 features wider dimensions and partial metal edges for increased off-trail versatility and control. Smaller, more accessible sizes allow for increased maneuverability, while waxless...
---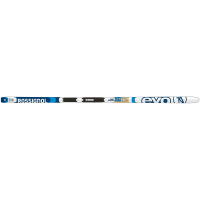 A user-friendly, waxless touring ski, the EVO TOUR 60 is designed for recreational skiers and active winter enthusiasts. Smaller, more accessible sizes allow increased maneuverability and control, while waxless Positrack bases provide the best blend of...
---