Petzl Pro Traxion Pulley
Designed to allow rope installation while connected to anchor, the Pro Traxion Pulley is built with features that let it efficiently haul heavy loads on big walls. Loss-resistant pully allows rope to be installed when pulley is connected to anchor Large diameter aluminum sheave allows for hauling heavy loads Side plate locks when loaded to prevent opening during use Lower connector point for different hauling systems Toothed cam maximizes performance on a variety of conditions May be used as simple pulley 300032996
---
Related Products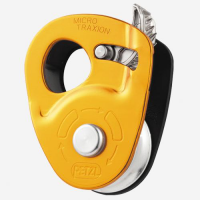 The Petzl Micro Traxion is an ultra-light, ultra-compact progress capture pulley that is exceptionally efficient. Pulley with integrated progress capture device can be used as a self-jamming pulley or simple pulley. Upper button allows cam to be locked...
---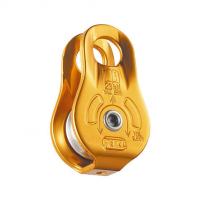 The Petzl Fixe is lightweight, compact, and quick to install on the rope. It offers a good balance between weight and strength. Allows a hauling system to be set up when used with a mechanical ascender. Also useful for redirection of the rope to avoid...
--- The Petzl Oscillante weighs next to nothing and is often carried for use in a crevasse rescue system or the occasional unexpected haul. . . Quick and easy installation due to swing side plates. Nylon sheave and aluminum side plate for excellent strength...
---