Petzl Micro Traxion
The Petzl Micro Traxion is an ultra-light, ultra-compact progress capture pulley that is exceptionally efficient. Pulley with integrated progress capture device can be used as a self-jamming pulley or simple pulley. Upper button allows cam to be locked in open position. Aluminum sheave mounted on sealed ball bearings for excellent efficiency. Rope clamp works on muddy or frozen ropes. Ultra-compact and lightweight. Weight: 85 g. Sheave type: sealed ball bearings
---
Related Products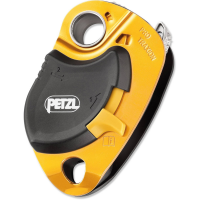 Designed to allow rope installation while connected to anchor, the Pro Traxion Pulley is built with features that let it efficiently haul heavy loads on big walls. Loss-resistant pully allows rope to be installed when pulley is connected to anchor Large...
---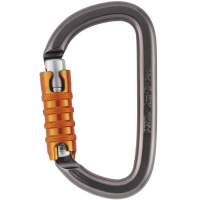 The asymmetrical aluminum Am'D carabiner has a D shape particularly suited for connection to diverse equipment such as descenders or positioning lanyards. Its fluid interior design and Keylock system facilitate manipulations.
---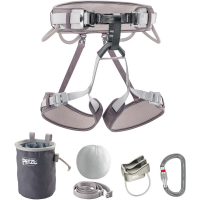 The CORAX kit offers a versatile, easy-to-use, comfortable harness for beginners or for those wanting to progress in climbing, mountaineering, or via ferrata. The kit also contains a belay system composed of an Am'D screw-lock carabiner and a VERSO belay-rappel...
---