Petzl Fixe Pulley
The Petzl Fixe is lightweight, compact, and quick to install on the rope. It offers a good balance between weight and strength. Allows a hauling system to be set up when used with a mechanical ascender. Also useful for redirection of the rope to avoid rope drag and wear. High efficiency due to the sheave mounted on self-lubricating bushings. Can be used for tyrolean traverse if doubled; pair with an ascender for anti-reverse. Fixed sides and self-lubricating bearings. Accepts rope up to 12.7 mm. Working load capacity is 2.5 kN, breaking load is 22 kN. CE certified.
---
Related Products The Petzl Oscillante weighs next to nothing and is often carried for use in a crevasse rescue system or the occasional unexpected haul. . . Quick and easy installation due to swing side plates. Nylon sheave and aluminum side plate for excellent strength...
---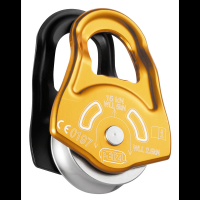 The Petzl Partner is a highly efficient and compact pulley. Extremely lightweight and ultra-compact pulley. Designed for daily tasks and for on-site rescue (Tyrolean traverse, etc.). Sheave mounted on sealed ball bearings for excellent efficiency. For...
---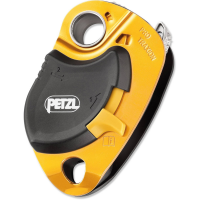 Designed to allow rope installation while connected to anchor, the Pro Traxion Pulley is built with features that let it efficiently haul heavy loads on big walls. Loss-resistant pully allows rope to be installed when pulley is connected to anchor Large...
---