Nite Ize Figure 9 Tent Line Kit
This ingenious, lightweight set of four award-winning Figure 9 rope tighteners makes tent set-up a snap. Figure 9s provide easy tension and secure adjustment without tying a single knot-your tent stays taut and sound in any weather. . Instructions embedded in each Figure 9 ensure ease of operation. Includes four lightweight black plastic Figure 9s (weight: 2 grams each; 0.07 oz.),. Includes four green reflective cords (8 ft. each; 2.44 mm). Reflective guy lines provide high nighttime visibility (no more tripping over them in the dark). Two attachment methods for ultimate versatility. Loop system. Fixed end system. No more tying and untying knots, fiddling with plastic sliders, or relocating tent stakes. Warning: not for use where disengagement could result in bodily injury or property damage; not for climbing
---
Related Products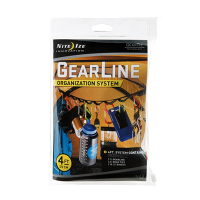 The Nite Ize Gear Line Organization System gives you a place to attach camp gear. It comes with sturdy S-Biner double-gated carabiner clips in alternating sizes, attached to a sturdy loop with reusable twist ties on each end. Attach tools, gear, gadgets...
---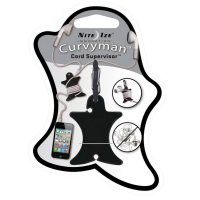 Don't let his cute little shape fool you. When it comes to tangled headsets and knotted-up ear buds, the Nite Ize Curvyman is all business. . Unique durable lightweight plastic shape keeps unruly ear buds and headsets in order. Size #0 plastic S-Biner...
---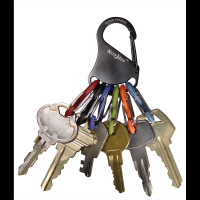 The NITE IZE Key Rack comes with six different-colored plastic S-Biners, perfectly sized to hold 6 separate keys. Packaged with 6 Plastic Size #0 S-Biners - combining the innovation and versatility of the S-Biner to provide unique functionality and access...
---