Nikwax Tent And Gear Solarproof Weatherproofing Spray
Protect against UV damage and add water repellency to tents packs, panniers, camera bags and other gear with Nikwax Tent and Gear Solarproof. Spray-on application. Maintains or adds water repellency to new or used tents and outdoor gear. Protects tents and gear against UV degradation. Increases fabric strength. One application can double the effective life of gear. Gear dries more quickly for packing away. Easy spray-on application. Can be used on all weatherproof textiles: tents, packs, panniers, camera bags, awnings, and more. Water based: contains no fluorocarbons or propellant gases - environmentally safe. 17 fluid ounces; 500 ml: enough to treat a 3 - 4 person tent. Note: Clean used gear first with Nikwax Tech Wash before applying (search 001-666-155)
---
Related Products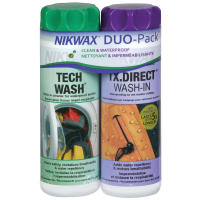 Prolong the life of your gear and optimize outdoor performance with this Nikwax Twin Pack. Tech Wash cleans your waterproof/breathable garments, while TX.Direct restores the DWR (durable water repellent) finish to fabrics without wicking liners. Twin...
---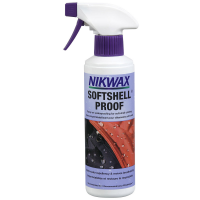 Restore the water repellency of your gear with the Nikwax(R) Softshell Proof, the spray on makes even application simple. Restores the DWR (durable water repellant) coating that makes water bead up and run off your jacket. Nikwax will not affect the breathability...
---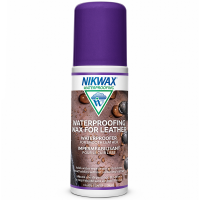 Water-based Nikwax Waterproofing Wax adds water repellency, reduces water absorption, and maintains breathability on smooth leather. . Keeps your smooth leather footwear dry, warm, and comfortable. Solvent- and VOC- (volatile organic compound) free formulation-safe...
---