Native Eyewear Coldfront Goggles, Tartan/snowtuned React Rose
. . Wide Field-Of-View. . Fluted Hypoallergenic Triple Face Foam. . Enhale Nasal Nest. . High-Efficiency Anti-Fog. . Sealed Double Cylindrical Lens. . Siliconized Adjustable Strap. . Articulated Outrigger. . Includes Bonus Low-Light Lens [Excludes SnowTuned React]. . . . . . This product will be shipped directly from
---
Related Products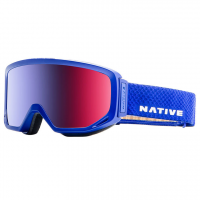 The Coldfront goggle gives a nod to retro winter style with articulated outriggers and strap details, perfect for riders who prioritize both function and style. The medium fit cylindrical lens offers users wide peripheral views with a lower profile. Color...
---
Inspired by the famous backcountry area at the southern point of Colorado
--- . . Wide Field-of-View. . Fluted Hypoallergenic Triple Face Foam. . Enhale Nasal Nest. . High-Efficiency Anti-Fog. . Sealed Double Cylindrical Lens. . Siliconized Adjustable Strap. . Fits Over Most Prescription Glasses. . . . . .
---