Mpowerd Luci Emrg Inflatable Solar Light
Luci EMRG is an inflatable, pocket-sized lantern, flashlight, and emergency light all-in-one. Needing only sunlight to stay charged, Luci EMRG shines reliably through storms, blackouts, roadside trouble or whenever you need light. Waterproof, lightweight, and extremely durable, tuck one in your travel bag, keep one in your car and store one in your emergency kit.. . . . Product features. * Matte finish with clear top. * 25 lumens. * 3 cool white LEDs + 1 red LED. * Fixed base strap. * Durable: withstands up to 150 lbs of pressure. * Lightweight: 2.5 oz (72 g). * Waterproof: IP67. * Operating temp: 32degF - 113degF (0degC - 45degC). . . . Product functions. * 5 modes: low, high, flashing, S.O.S, steady red. * 2 second quick shut off. * Battery level indicator. . . . Charge. * Lasts up to 7 hours on a single charge. * Recharges in 8 hours. * Recharge via direct sunlight. * 350 mAh Lithium Ferric Battery. * Overcharge and over discharge protection. * Overcurrent and short circuit protection. . . . Dimensions. * Diameter: 4 inches (10.2 cm). * Height: 4 inches (10.2 cm). * Collapsed: 1 inch (2.5 cm). . Imported
---
Related Products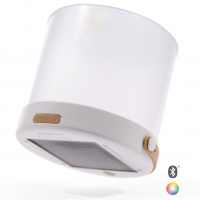 The sun just got a little brighter. This solar-powered Luci light is MPOWERD's first smart light. Pair with your phone to control the lights, preset moods, and more! With a sleeker, more stylish design, the Luci Connect is ready for anything - from outdoors...
---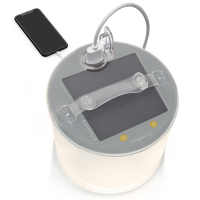 Extending the day into night. With 360 lumens, mobile charging, and lasting up to 50 hours on a single charge, Luci Base Light is a must-have for any adventure.. . . . Product features. . * Mobile charging + power bank. * Matte finish with glare-free...
---
Add a splash of color to your life with the MPOWERD Luci Color inflatable solar lantern's 8 bold hues and sparkle finish-plus, it lasts up to 6 hours on a single charge.
---