MTI Fluid 2.0 Inflatable Belt Pack PFD
The Fluid 2.0 belt pack PFD is loaded with extra features for every kind of SUP paddling - including flatwater RACE and SUP YOGA. A body hugging design keeps the belt secure around your waist and 3D mesh padding is softer, cooler and quick drying. A zippered storage pocket on top lid provides easy storage for sunscreen or keys. . This product ships directly from MTI and will leave their warehouse in 2-3 business days. Eligible for UPS ground shipping only. . . . 3D mesh padded comfort belt. . Buckle protector panel. . Zippered storage pocket. . Exterior whistle holster & D-Ring attachment point, signal whistle included. . Indicator Window lets you know in an instant if PFD is armed for inflation, uses included bayonet style 24g CO2 cylinder. . Fold lines on bladder make it easy to repack. . Requires secondary donning. . Size - 30 in.-52 in., at least 16 years old. . Minimum Buoyancy: 26lb 2oz. . Design Buoyancy: 29lb. .
---
Related Products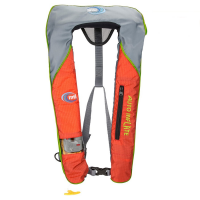 The New Neptune Automatic Inflatable PFD is designed for the boater who wants extra peace of mind that their life jacket will inflate if they end up swimming with the fishes. Enjoy extreme freedom of movement and all-day comfort in hot weather with the...
---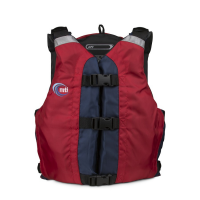 APF = All Person Fit. Now you know! Designed for adults 90 lb and up, its remarkable universal sizing easily adjusts from a slim 30in. chest to a super-size 56in. chest with no sacrifice in comfort. A favorite primary vest or one to share with the whole...
--- Float the weight of the world on your shoulders in Class V rapids. Size graded extra buoyancy provides up to an extra 13 lbs of flotation!
---