MSR Whisperlite Universal Stove
MSR Backpacking Canister Stoves Whisperlite Universal Stove 6630. Fuel-specific jets and fuel source couplers let it burn just about anything anywhere. A trail-friendly light and packable design and capacity to burn an inverted canister for improved performance make it unique in its class. Canister and fuel bottle not Included.
---
Related Products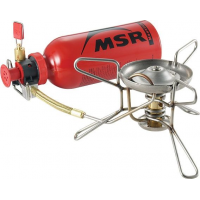 MSR Backpacking Liquid Fuel Stoves Whisperlite Stove 11782.
---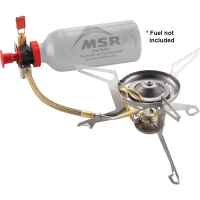 Redesigned for a lighter trail weight, the MSR WhisperLite International represents the gold standard for multi-fuel stoves. . Aluminum mixer tube and stainless steel legs reduce trail weight by 10%. Able to burn white gas, kerosene, and unleaded auto...
---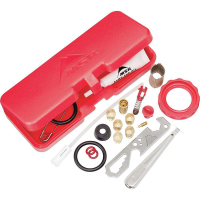 Be prepared for anything with the MSR WhisperLite Expedition Service Kit, and you will always have a hot meal. . An extended trip far away from home is no place to realize that you forgot to replace that worn-out O-ring. Service kits provide comprehensive...
---
Shaker Jet technology makes cleaning as simple as shaking the stove.. Made to last with durable stainless steel and brass.. Burns cleanly on White Gas and white gas varieties.. Minimum Weight: 11 oz. (305 g) Packaged Weight: 14.5 oz. (410 g). Lifetime...
---
Multi-Fuel: Reliably burns more liquid fuels than any other stove.. Dependable: Easy to field maintain; Shaker Jet cleans fuel jet with a simple shake. Compact: New flexible fuel line allows stove to fit in a 1.5-liter MSR pot.. Superfast: Boils 1 liter...
---