MSR Whisperlite International Stove
MSR Backpacking Liquid Fuel Stoves Whisperlite International Stove 6633. The upgraded MSR Whisperlite International multi-fuel stove takes advantage of nearly 20 years of proven field use and feedback to make one of MSR's most versatile stoves even better. The most notable improvement is a one-piece stamped stainless steel leg assembly that boosts stability and simplifies maintenance while also reducing weight.
---
Related Products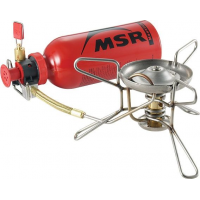 MSR Backpacking Liquid Fuel Stoves Whisperlite Stove 11782.
---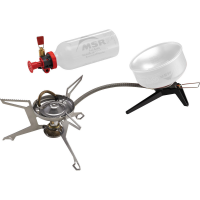 The legend continues with the MSR WhisperLite Universal that combines canister and liquid fuel capabilities into one package.Winner of Backpacker Magazine's 2012 Editor's choice Award. . Fuel specific jets and fuel cource coupler let you burn liquid fuel...
---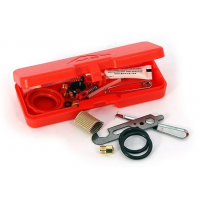 MSR Backpacking Stove Accessories Whisperlite Expedition Service Kit 6838. Intended for hardcore users or people going on extended trips the Expedition Service Kit is a comprehensive maintenance and repair kit for your liquid-fuel stove and pump. Kit...
---
Multi-Fuel-Burns white gas, kerosene and unleaded gasoline. Light and Sturdy: Lightweight stainless steel legs offer excellent durability. Compact: Folds small and fits inside most MSR pots.. Field Maintainable: Self-cleaning Shaker Jet technology and...
---
Multi-Fuel: Reliably burns more liquid fuels than any other stove.. Dependable: Easy to field maintain; Shaker Jet cleans fuel jet with a simple shake. Compact: New flexible fuel line allows stove to fit in a 1.5-liter MSR pot.. Superfast: Boils 1 liter...
---
Two-person backpacking cookset is lightweight (1 pound 12 ounces), compact (packed size 7.75 x 5 inches), and efficient for backcountry trips. Includes 1.5L hard-anodized non-stick aluminum pot, 2.5L hard-anodized aluminum pot, strainer lid, 2 deep dish...
---
Efficient nesting design makes room for a Pocket Rocket 2 stove and an 8 oz MSR fuel canister, creating a complete set that saves precious pack space. Weighs just 10.2 ounces, keeping pack weight to minimum. Lightweight, strong hard-anodized aluminum...
---
Lightweight rugged stove kit accommodates backpacking duos with a camping stove, cooking pot, and dishes and utensils for two. Complete kit, including stove and cook set, weighs just 25.8 ounces (732 grams). MSR PocketRocket canister stove (fuel sold...
---