MSR Whisperlite International Stove
MSR Backpacking Liquid Fuel Stoves Whisperlite International Stove 6633. The upgraded MSR Whisperlite International multi-fuel stove takes advantage of nearly 20 years of proven field use and feedback to make one of MSR's most versatile stoves even better. The most notable improvement is a one-piece stamped stainless steel leg assembly that boosts stability and simplifies maintenance while also reducing weight.
---
Related Products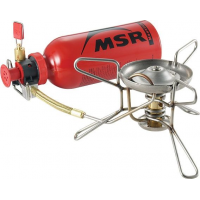 MSR Backpacking Liquid Fuel Stoves Whisperlite Stove 11782.
---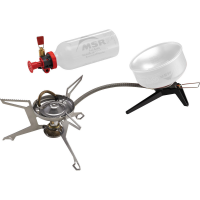 The legend continues with the MSR WhisperLite Universal that combines canister and liquid fuel capabilities into one package.Winner of Backpacker Magazine's 2012 Editor's choice Award. . Fuel specific jets and fuel cource coupler let you burn liquid fuel...
---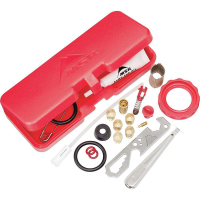 Be prepared for anything with the MSR WhisperLite Expedition Service Kit, and you will always have a hot meal. . An extended trip far away from home is no place to realize that you forgot to replace that worn-out O-ring. Service kits provide comprehensive...
---
Multi-Fuel: Reliably burns more liquid fuels than any other stove.. Dependable: Easy to field maintain; Shaker Jet cleans fuel jet with a simple shake. Compact: New flexible fuel line allows stove to fit in a 1.5-liter MSR pot.. Superfast: Boils 1 liter...
---
Shaker Jet technology makes cleaning as simple as shaking the stove.. Made to last with durable stainless steel and brass.. Burns cleanly on White Gas and white gas varieties.. Minimum Weight: 11 oz. (305 g) Packaged Weight: 14.5 oz. (410 g). Lifetime...
---
Two-person backpacking cookset is lightweight (1 pound 12 ounces), compact (packed size 7.75 x 5 inches), and efficient for backcountry trips. Includes 1.5L hard-anodized non-stick aluminum pot, 2.5L hard-anodized aluminum pot, strainer lid, 2 deep dish...
---