MSR HyperFlow Filter Cartridge
Replacement cartridge for use with the MSR Hyperflow Microfilter. Super-fast: filters up to 3 liters of water per minute with Hollow fiber Technology. Can be cleaned repeatedly in the field for flow recovery. Quick and easy replacement; no tools required. Filters approximately 1000 liters of water (depending on water quality)
---
Related Products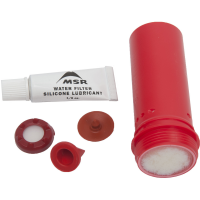 This kit contains a replacement filter cartridge for the TrailShot filter, as well as the small components and instructions necessary to service your TrailShot
--- The MRS HyperFlow will change the way you filter water in the backcountry. With its diminutive size and tool free maintenance there is no reason to leave the filter behind and 'take a chance' while you are out there. Winner of Backpacker Magazines 2008...
---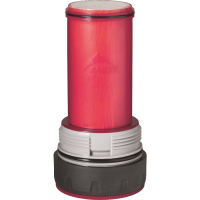 This replacement filter cartridge restores your Guardian Purifier
---
Filters up to 1,000 liters, depending on conditions. Replacement part for MSR Hyperflow water microfilter.
---
Can be cleaned multiple times for low cost filtering. Carbon core removes many chemicals including iodine, pesticides and chlorine. Ceramic Gauge lets you know when to replace the ceramic element. Adapter base lets you screw your MSR filter directly onto...
---
Small check valve, large check valve, replacement piston o-ring, replacement Quick Connect Bottle Adapter o-ring. O-ring installation tool, o-ring removal tool (jet and cable tool), silicon lube, instructions. Services MSR Hyperflow water microfilter....
---
Microfilter water filter pump for hiking, backpacking, camping, travel, survival, and emergency preparedness. Replaceable carbon and ceramic filter removes bacteria, protozoa, organic compounds, and particulate, delivering clean, taste and odor-free water....
---