MSR Guardian Purifier
Staying hydrated is an absolute necessity while exploring the paths less traveled, but in remote locations, access to fresh water can be limited. Thanks to six years of research, testing and engineering, global adventurers now have the ability to refuel with the Guardian Purifier. Engineered with the ability to treat 2.5 liters per minute, the Guardian physically removes viruses, bacteria, protozoa and particulates from water using revolutionary hollow fiber technology. The Guardian also uses 10% of its water intake to flush out contaminants through a separate tube back into the water source, making it the only self-cleaning pump of its kind. So if you're planning on venturing along untouched trails, count on the Guardian Purifier for the freshest drinking water available. . . . Medical grade hollow fiber technology blocks waterborne viruses, bacteria, protozoa and particulates. . Treats 2.5 liters per minute. . Rugged construction withstands freezing temperatures and drops up to 6 ft.. . Pump operated. . Self-cleaning system flushes contaminants back into water source through separate tube. . Cartridge life indicator shows filter life. . Filter lasts up to 10,000L. . Meets NSF protocol P248 military testing standard. . Winner of Backpacker Magazine's Editors' Choice Awards 2016. .
---
Related Products Guardian Purifier replacement hose kit. The 48
---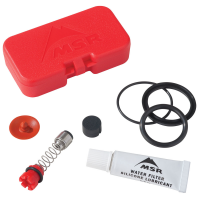 All the necessary components and instructions required to maintain your Guardian purifier
---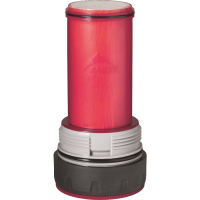 This replacement filter cartridge restores your Guardian Purifier
---
Complete water filtration system designed for emergency preparedness, groups in the backcountry, and mission trips. Highest level of filtration on market -- removes greater than 99.99999% of all bacteria and 99.9999% of all protozoa. Bucket and faucet...
---
Military-grade water purifier pump removes viruses, bacteria, protozoa, and particulate from contaminated water sources virtually anywhere on earth. Meets NSF protocol P248 testing standard of the U.S. military, using medical-grade fibers to provide protection...
---
Microfilter water filter pump and 50 purification tablets for hiking, backpacking, camping, travel, survival, and emergency preparedness. Replaceable carbon and ceramic filter removes bacteria, protozoa, organic compounds, and particulate; Aquatabs protect...
---
Reusable LifeStraw Go BPA-free water bottle filters water while drinking; great for travel, backpacking, camping, and emergency kits. Award-winning LifeStraw hollow fiber membrane water filter removes bacteria and protozoa from lakes, streams to ensure...
---
Ideal for global traveling, outdoor adventures, emergency preparedness, hiking, backpacking, camping, fishing, survival. Fast and easy-to-use, simply Fill. Press. Drink. No sucking, squeezing, pumping, prolonged waiting, ultraviolet bulbs, or batteries....
---