MSR Guardian Purifier Cartridge Replacement
This replacement filter cartridge restores your Guardian Purifier
---
Related Products A Backpacker Magazine 2016 Editors' Choice winner, the MSR Guardian Purifier physically removes viruses, bacteria, protozoa and dirt quickly and easily on backpacking trips and international travel.
--- Guardian Purifier replacement hose kit. The 48
---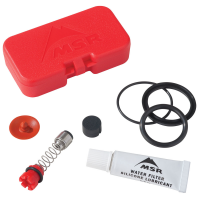 All the necessary components and instructions required to maintain your Guardian purifier
---
Microfilter water filter pump for hiking, backpacking, camping, travel, survival, and emergency preparedness. Replaceable carbon and ceramic filter removes bacteria, protozoa, organic compounds, and particulate, delivering clean, taste and odor-free water....
---