MSR Autoflow Gravity Microfilter- 4L
The supreme ease of the AutoFlow Gravity Filter has converted many backcountry travelers to pump-free water filtration. Now, it offers the luxury of effortless water storage and filtration in a more compact, lightweight and streamlined system. Efficient hollow fiber technology filters up to 1.75 liters per minute, and quick and easy tool-free cleanings maintain high flow rates on extended expeditions. Choose the 4-liter system for groups and base camps. The 2-liter system is perfect for backpacking pairs. . . . Tested: Meets NSF protocol P231 for removal of bacteria (99.9999%) and protozoa (99.9%) from beginning to end of filter life in ???worst-case??? water.. . No Pumping: Lets gravity do the work so you don't have to.. . Fast: Filters more than 1.75 liters per minute.. . Lightweight: 2-liter system weighs only 300 g (10 oz.). 4-liter system weighs just 315 (11.1 oz.). . Field-Maintainable: Can be back flushed repeatedly without disassembly to regain flow rates.. . Adaptable: Filter directly into most any bottle or reservoir with included Universal Bottle Adapter.. . Weight: 11.1 oz.. . Width: 11.3 in. . Length: 20 in. . Assembled in the U.S.A. of U.S. and Imported Materials. . Made in USA. .
---
Related Products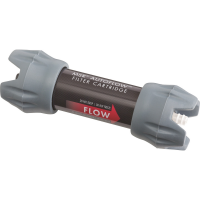 Restore flow rates in your AutoFlow Gravity Filter by replacing a tired, worn cartridge with fresh, new Hollow Fiber media. . . . Effective against bacteria: Yes. . Effective against particulate: Yes. . Effective against protozoa: Yes. . Effective...
--- The MRS HyperFlow will change the way you filter water in the backcountry. With its diminutive size and tool free maintenance there is no reason to leave the filter behind and 'take a chance' while you are out there. Winner of Backpacker Magazines 2008...
---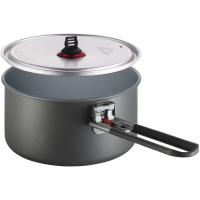 This lightweight 1.3-liter aluminum pot features a durable ceramic nonstick surface and is sized perfectly for the minimalist meals favored by solo backpackers. Ceramic Nonstick: The toughest nonstick coating is scratch-resistant, easy to clean, and handles...
---