Lifestraw Personal Water Filter
The LifeStraw personal water filter, a "Best Invention of the Year" (Time magazine) winner, enables users to drink water safely from contaminated water sources. LifeStraw is ideal for homeowners during emergencies such as local flooding which can contaminate drinking water supplies. LifeStraw is also ideal for campers and hikers who may be drinking from rivers or lakes and are unsure of the water safety. Because LifeStraw is lightweight and compact, it is also great for travelers who do not want to rely on the quality of local water. LifeStraw is the most advanced personal water filter available today. LifeStraw surpasses EPA guidelines for E. coli, Giardia, and Cryptosporidium Mfg: Lifestraw
---
Related Products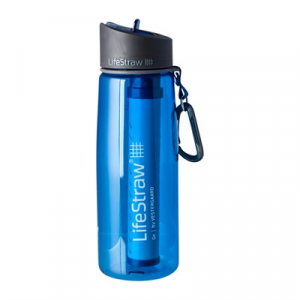 The LifeStraw Go is the next step in the company's drive to provide easy-to-access, clean drinking water for anyone in the world, no matter where they are. The design of the Go ensures that users can grab water from any source and transform it into a...
---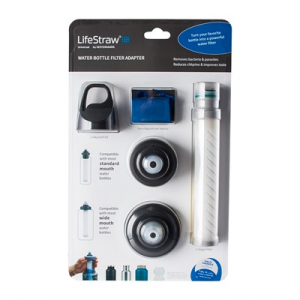 The LifeStraw Universal Filter is a revolutionary new product from the company that brought the world the innovative and life-changing LifeStraw water-filtration device, allowing owners to transform any standard-size bottle into a do-it-all water-purification...
---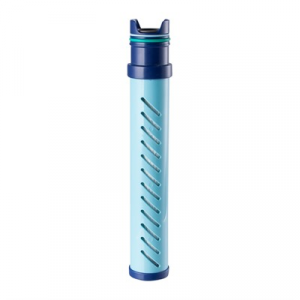 The LifeStraw Go Bottle Replacement Filter allows owners of the company's innovative filtration system to stay active and hydrated, thanks to the completely replaceable filtration components located inside the company's bottle design. The LifeStraw Go...
---
Award-winning LifeStraw Family is used by over 13,200,000 people worldwide. Surpasses EPA standards for water purifiers: removes 99.99% viruses, 99.9999% bacteria and 99.9% protozoan cysts to 0.02 microns. Purifies 18,000 liters/4755 gallons WITHOUT iodine,...
---
Gravity-fed, high-capacity, hollow membrane water purifier; ideal for group and family camping, outdoor activities, and emergency preparedness. Removes virtually all bacteria (99.9999%), protozoa (99.99%), and viruses (99.999%) that can contaminate water;...
---
Ideal for outdoor recreation, hiking, camping, scouting, domestic and international travel and emergency preparedness. High performance filter fits in the palm of your hand; weighs just 2 ounces; 0.1 Micron absolute hollow fiber membrane inline filter....
---
Potable Aqua - the most trusted name in water purification products, Potable Aqua is used by militaries and relief organizations around the world. Potable Aqua Drinking Water Germicidal Tablets are intended for emergency disinfection of drinking water....
---
[WATER DROP DESIGN] Don't know how big water filter pitcher you should buy? Try this one! Updated version, easier to assemble and more user-friendly. The modern upscale water drop design allows this filter to be snugly placed over any container you have,a...
---