Kuhl Women's Mova Aktiv Dress - Size L
The KUHL M VA AKTIV DRESS(TM) features KONTOUR(TM) fabric, a soft and durable stretch nylon made to look like woven fabric for texture and appeal. KONTOUR(TM) fabric holds its shape for a flattering, feminine fit. This dress features subtle ruching at the chest and a stylish cut-out on the back. A built-in internal bra provides extra support and comfort for all-day wear. KONTOUR(TM) 86% nylon, 14% spandex. Soft and durable stretch nylon knit. Built-in internal bra. Imported.
---
Related Products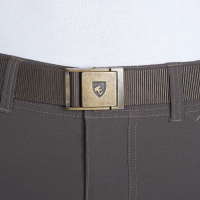 The Kuhl Aviatr Belt features a sleek design and innovative pre-curved webbing for a 3D, anatomical fit. The belt rises in the back to match the natural rise of your hips. It also boasts polyester woven webbing and one-handed push button operation. Small-...
---