Iron Age Men's High Ridge Steel Toe Poron Xrd Internal Met Guard Sport Hiking Shoes, Brown
Often, when things get heavy, you want something light. Find outsized protection that won't weigh you down on the long road ahead and will help you keep your feet all day long on the high road.. . This product will be shipped directly from Iron Age and will leave their warehouse in 3-5 business days. Eligible for ground shipping only. Full grain leather upper - Only the toughest part of the hide, so your boots can be the toughest against abrasion, oils, and chemicals. Meets all standards for safety footwear. Steel toe. Electrical hazard protection -. Poron(R) XRD(R) internal met guard - Extreme impact protection. The harder it's hit, the harder it gets. Soft and flexible when you're working, but strong and rigid when you need it to be.. Scuff tough hi-abrasion heel and toe areas. Removable EVA cushioning with a spongey rubber heel. Shank type: non-metallic rigid nylon. Designed tough for assemblers, electricians, utility workers, industrial mechanics and machinists. Tough against - heavy objects, uneven surfaces, flexing and bending. ASTM F2413. Imported.
---
Related Products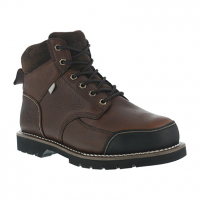 It's not about hitting back, but hitting first. Plowing through what's heavy, what's caustic, what's rough, and what's in your way. And to do all that and still be standing? That's what these boots area all about.. . This product will be shipped directly...
---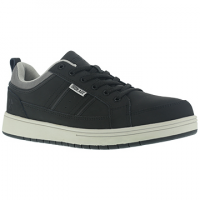 There's something to be said for stick-to-itiveness. And these shoes are the final word. Grip through the slickest, slipperiest surfaces. Stick it to whatever's trying to bring you down. Ideal for storage and transportation workers, assemblers, utility...
---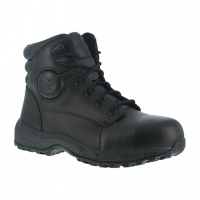 Cover more ground - get more done. It's that simple. When you're constantly on the move, versatility matters. These boots have got you covered with durable full grain leather uppers, a steel shank, and steel toes.. . This product will be shipped directly...
---