Hiker Microfilter Water Filter
After a long hike over the mountains, and along the snaking river you will need to quench your thirst. Take a stop at the waters edge and filter your next drink with the Hiker Microfilter from Katadyn. Katadyn has been a leader in water filtration devices since we began to drink. So don't leave on your next camping trip without it. PRODUCT FEATURES: Effective against microorganisms Effective against bad taste Effective against chemicals For solo use Suitable for small groups up to 3 people Suitable for clear water only Suitable for cloudy water For daily or very frequent use For more frequent use Lightweight and portable for on-the-go adventures Lightweight and portable for on-the-go adventures Dimensions (in): 2.96 x 6.44 Diameter (in): 2.38 Output (gal): 1.06 quart/min Technology: AntiClog Technology with 0,2 micron glassfiber, Activated carbon Weight (oz): 10.93 340418 , katadyn Hiker Microfilter Water Filters , Hiker Microfilter Water Filter katadyn , katadyn Hiker Microfilters , Hiker Microfilter katadyn , katadyn Hiker Water Filters , Hiker Water Filter katadyn , katadyn Hiker , Hiker katadyn , katadyn microfilters , microfilters katadyn , filtering , filters , filtration , purifiers , purification , purify , water filtering , water filters , water filtration , water purifiers , water purification , water filtering system , water filters , water filtration , water filtering systems , water filters systems , water filtration systems , water purifiers systems , water purification systems , water filtering system systems , water filters systems , water filtration systems , katadyn filtering , katadyn filters , katadyn filtration , katadyn purifiers , katadyn purification , katadyn purify , katadyn water filtering , katadyn water filters , katadyn water filtration , katadyn water purifiers , katadyn water purification , katadyn water filtering system , katadyn water filters , katadyn water filtration , katadyn water filtering systems , katadyn water filters systems , katadyn water filtration systems , katadyn water purifiers systems , katadyn water purification systems , katadyn water filtering system systems , katadyn water filters systems , katadyn water filtration systems
---
Related Products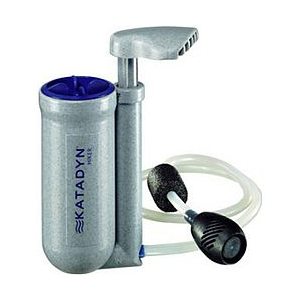 After a long hike over the mountains, and along the snaking river you will need to quench your thirst. Take a stop at the waters edge and filter your next drink with the Hiker Microfilter from Katadyn. Katadyn has been a leader in water filtration devices...
--- Katadyn makes water filtration nice and easy with their Hiker Pro Microfilter. Simple to use, this water filter keeps you from having to boil or treat your water in order to make it drinkable. Throw it in your pack and you'll love whenever you have to...
--- Periodically replace the filter element on your Katadyn Exstream or MyBottle. This replacement Filter Cartridge will keep your filter running at optimum efficiency. 8014523 , Katadyn Exstream - MyBottle Replacement Filter Cartridge , Exstream - MyBottle...
---