Grivel G12 New-Classic Crampons
A standard, solid 12-point crampon meets the challenges of general mountaineering, alpine environments, ice and rock climbing, and waterfall routes with a classic design. Four points perpendicular to the rails prevent shearing in soft snow and improve security during descents, while an adjustable-by-hand functionality requires no tools to get a precise fit.. . This product will be shipped directly from Grivel and will leave their warehouse in 2-3 business days. Eligible for ground shipping only. . Made out of chromoly steel. . Weight: 950 grams/30.64 oz.. . Size: 36-47 (Women's 5.5 to Men's 14). . Active Antibott included. . CE and UIAA Certified. . Imported. .
---
Related Products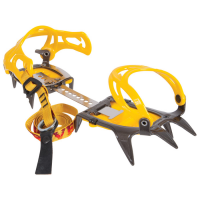 A lightweight, universal crampon comes with all the features necessary for general mountaineering. Adjust the pair by hand - tools aren't needed - and in use, its active anti-balling technology moves away snow from underfoot, so you get better traction...
---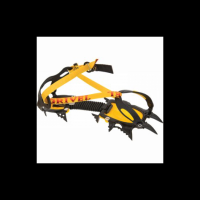 Ten points in contact with the ice while you are walking, 12 points that bite into the slope during traverses. This has been made possible because the third pair of points are shorter and wider apart. On the top of this the last two front points have...
---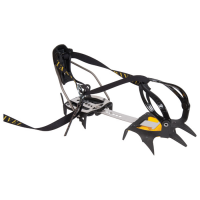 Best for the entry-level alpinist, this set factors in a climber
---