Price search results for Goal Zero Guide 10 Recharger (product no longer available)
---
Related Products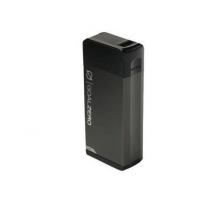 The Rock Out 2 Solar Speaker meets the demands of the pickiest, most adventurous audiophile. With its DarkBass??? chamber, one-touch Bluetooth and powerful solar panel, a Rock Out 2 Solar Speaker in your backpack ensures a long-lasting musical trek. Features*...
--- A full recharge on a tablet means you're ready to power through whatever scenic route you decide to venture down. Designed to give multiple charges on small devices and quickly charge up from USB or sun. . ??. . . . This product will be shipped directly...
--- This rugged and weatherproof recharger powers up your portable electronic devices when you're on the go. Its light, compact design is perfect for the airport or the hiking trail.
---
Smart charging technology -features two USB ports capable of dishing out 2.4A at the same time. Waterproof in use - spray it down, take it to the beach, leave it in the rain - and never worry about rubber plugs.. 66.9 wh, 17, 700mAh power pack - power...
---
Pack of 4 AA NiMH batteries. For use with Goal Zero Guide 10 power packs. Can be charged using the Nomad 7 or other Goal Zero solar panels. Lifecycle of 500 - 1000 charges. Low self-discharge for long shelf life.
---
Recharge your cell phone 1-3 times per charge. Charges iPads, Kindles, tablets as well; Amount of charge, depends on the device. Built-in LED flashlight that runs 20+ hours per charge. Includes 4 pack of AA rechargeable batteries. Includes AAA insert...
---
Replaceable lithium ion 3,000mAh/11Wh lightweight battery with LED level indicator and pass-through capability. Quick charge with 1.5A USB output and smart power without overcharging or discharging. Solar ready with built-in charging tip to power up in...
---
► Capacity: AA 3000mAh. ► AAA 1000mAh (Factory Standard). ► 100% Brand New. ► 8 pcs AA 3000mAh Ni-MH Rechargeable Battery. ► Chemistry: Ni-MH (Nickel Metal Hydride).
---