Energizer Aaa Lithium Batteries, 2-Pack
Lightweight complex carbs for your electronics. These lithium batteries are compatible with devices that use AAA batteries. . Lithium lasts longer than alkaline batteries; longest lasting source other than rechargeable batteries. Weighs 33% less per battery than alkaline. Performance unaffected by temperatures from -40deg to 140deg ideal cold weather power source. Due to federal shipping restrictions regarding products containing lithium batteries, this product cannot be shipped to Canada, Hawaii, Alaska, Catalina Island, Puerto Rico, APO, FPO or international addresses. Thanks for your understanding.
---
Related Products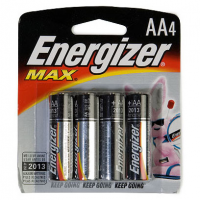 AA size alkaline batteries. . Use in flashlights, radios, and other electronics. 4 batteries per package
---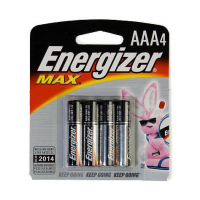 AAA size alkaline batteries. . Use in headlamps, flashlights, and other electronics. 4 batteries per package
---
More Power for the devices you rely on including; Wirelsss gaming accessories, Handheld games, MP3 players, Portable CD players and digital cameras. Weighs 1/3 less than standard alkaline batteries. Leak resistant construction. Made in the USA.
---
Sold as .: 2 Packs of - 4 - / - Total of 8. Manufactured by.: Energizer.
---
Designed for long-lasting performance in the broadest range of device application. No added mercury means Energizer MAX is an environmentally responsible. battery that can be disposed of with regular household trash Reliable portable power that maximizes...
---
---
Product is unique and carries its own natural characteristics. It is a high quality product. Manufactured in United States. Last up to 9x longer in digital cameras (versus Energizer MAX - results vary by camera). Weigh 1/3 less than standard alkaline...
---