Energizer Aa Batteries, 4-Pack
AA size alkaline batteries. . Use in flashlights, radios, and other electronics. 4 batteries per package
---
Related Products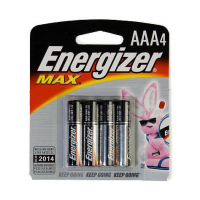 AAA size alkaline batteries. . Use in headlamps, flashlights, and other electronics. 4 batteries per package
---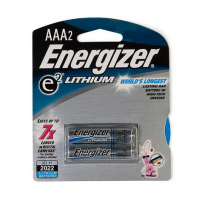 Lightweight complex carbs for your electronics. These lithium batteries are compatible with devices that use AAA batteries. . Lithium lasts longer than alkaline batteries; longest lasting source other than rechargeable batteries. Weighs 33% less per battery...
---
4-pack of Energizer MAX alkaline AA batteries. Our #1 Longest Lasting MAX AA battery powers everyday devices. Leak resistant-construction protects your devices from leakage of fully used batteries for up to 2 years. Bonus: It's guaranteed.*. Power for...
---
Duracell AA Batteries: The Duracell Quantum Double A alkaline battery is designed for use in household items like remotes, toys, and more.. Hi-Density Core technology: With exclusive PowerCheck feature to instantly check power level.. Duracell guarantees...
---
This rugged, portable LED flashlight works with 4 Energizer MAX AA Batteries (included). High-power LED technology delivers up to 550 lumens* of uniform, wide-angle light. Tough and durable body withstands drop after drop from up to 2 stories high (7...
---
Energizer Compact Lantern with Light Fusion Technology takes 4 Energizer MAX AA batteries (batteries included). Puts out up to 240 lumens* of bright light and can switch between 2 light mode settings of high and low. Runs up to 100 hours in low mode-great...
---
1 package of 4 AAA lithium batteries - the world's longest-lasting AAA battery in high-tech devices. No weather worries! Superior performance in extreme temperatures from 33% lighter than alkaline batteries - ideal for travel, camping, hiking and use...
---