Energizer Aa Batteries, 4-Pack
AA size alkaline batteries. . Use in flashlights, radios, and other electronics. 4 batteries per package
---
Related Products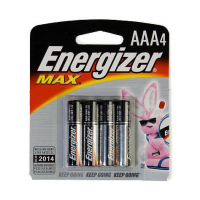 AAA size alkaline batteries. . Use in headlamps, flashlights, and other electronics. 4 batteries per package
---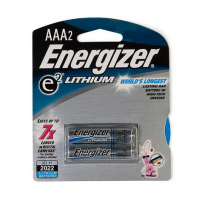 Lightweight complex carbs for your electronics. These lithium batteries are compatible with devices that use AAA batteries. . Lithium lasts longer than alkaline batteries; longest lasting source other than rechargeable batteries. Weighs 33% less per battery...
---
4-pack of Energizer MAX alkaline AA batteries. Our #1 Longest Lasting MAX AA battery powers everyday devices. Leak resistant-construction protects your devices from leakage of fully used batteries for up to 2 years. Bonus: It's guaranteed.*. Power for...
---
4-pack of Energizer Recharge Universal 2000 mAh NiMH AA rechargeable batteries. Storage Temperature: -20ºC to 30ºC. The World's 1st rechargeable AA battery made with 4% recycled batteries. Energizer Recharge Universal batteries come pre-charged and...
---
1 package of 4 Recharge Universal 700 mAh rechargeable NiMH AAA batteries, pre-charged and ready to use. Retains charge in storage for up to 12 months when not in use so reliable power is always on hand. Charge batteries up to 1000 times - an economical...
---
Duracell AA Batteries: The Duracell CopperTop Double A alkaline battery is designed for use in household items like remotes, toys, and more. Duracell guarantees these batteries against defects in material and workmanship. Should any device be damaged...
---
4 bright white LEDs provide 250 lumens of light output that reach a distance of 55 Meters. Light runs for up to 10 hours on 4 AA Energizer Max Alkaline batteries (included). Water resistant makes this ideal for outdoor applications. Rugged casing made...
---