Eagle Creek Pack-It Specter Tech Sac Set S/m/l
Pack smarter with the Pack-It Specter Tech Cube Set. With a Small, Medium and Large Cube at your disposal, you can organize your travel luggage by dividing up your apparel and accessories in their designated sized cube. Time to stay organized, pack faster and hit the open road. . . . Material: 30D ripstop nylon. . Set includes Small, Medium, and Large Cubes to fit your smaller undergarments, mid-sized apparel and comfortable sweats and towels. . Fabric has been redesigned for maximum strength at minimum weight. . Strong, self-healing zippers with climbing rope-inspired pulls allow you to pack it all in without snagging or breaking the zippers. . Webbed carry handles are reinforced to be able to support the weight of your belongings. . Translucent fabric provides quick visibility of your travel items. . Smart coated fabric is both water and stain repellent to protect the contents from the elements. . PVC coatings are not used in the manufacturing of this product. . Backed by Eagle Creek???s Lifetime Warranty to ensure your gear is protected for years to come. . S Capacity: 155 cu. in. / 2.5 L. . M Capacity: 305 cu. in. / 5L. . L Capacity: 580 cu. in. / 9.5L. . S Dimensions: 9 x 6.25 x 0 in.. . M Dimensions: 11.75 x 8.25 x 0 in.. . L Dimensions: 15 x 10.25 x 0 in.. . S Weight: 0.8 oz. / 23g. . M Weight: 1.1 oz. / 32g. . L Weight: 1.3 oz. / 36g. .
---
Related Products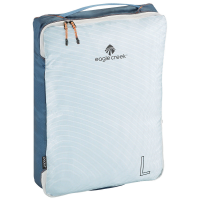 Stronger and lighter than ever, the Cube L has adapted to the needs of the avid traveler. The cubes have been updated for transparency and a wide book opening, allowing travelers to identify at a glance the contents of the cube and easily fold and pack...
---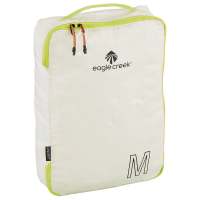 The newly redesigned Pack-It Specter Tech
---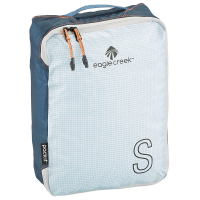 The Pack-It Specter Tech Cube S is the perfect lightweight packing organizer to keep your luggage manageable on even the longest journeys. Magic self-repairing zippers with innovative climbing rope-inspired pulls eliminate annoying zipper snags. Transparent...
---