Eagle Creek Pack-It Specter Sac Set
Staying organized when you travel gets a whole lot easier-and lighter!-when you use an Eagle Creek Pack-It Specter Sac. . Ultra-lightweight, translucent silnylon ripstop allows you to see what's inside. Great for organizing toiletries or other small items in any pack or luggage. Water- and stain-resistant for long-lasting durability. Carry clips for convenient carrying. Entire set weighs just over 2 oz.. Set includes one small Specter Sac (8 x 6 in.), one medium Specter Sac (10 x 8 in.), and one large Specter Sac (14 x 10 in.). Weight: Small, 0.6 oz.Medium, 0.6 oz.Large, 1 oz..
---
Related Products At less than 1 oz., Eagle Creek's Pack-It Specter Sac is an ultralight packing solution made of superdurable, stain- and water-resistant silnylon to keep small accessories organized while traveling. . Provides customization and space savings for any backpack,...
---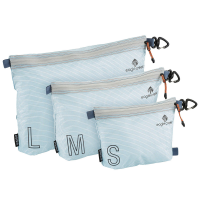 Pack smarter with the Pack-It Specter Tech Cube Set. With a Small, Medium and Large Cube at your disposal, you can organize your travel luggage by dividing up your apparel and accessories in their designated sized cube. Time to stay organized, pack faster...
--- When you just need a few necessities to get going, reach for the superlight Eagle Creek Pack-It Specter Quick Trip. This small duffel-style toiletry kit is just the right size for a weekend getaway. Ultra-lightweight, translucent silnylon ripstop allows...
---
DURABLE. Made with ultra lightweight material so you can organize your packing without adding extra weight. This set includes three medium sized cubes that will last through even the toughest packing jobs.. CONVENIENT. Mesh top allows for breathability...
---
Ultra-light, water-repellent shoe organizer. Protect clean clothes from dirty shoes inside any travel bag. Full-length front zipper for easy access. Max shoe size: men's 13. 10x4x14.
---
Packing sacs are great for keeping electronics and other small stuff organized. Ultra lightweight silnylon rip stop allows you to see what's inside. Carry clip. Weather-resistant and anti-staining properties. 0.5x14.5x10.5.
---
Compression zipper for even more space savings. Great for t-shirts, pants, and shorts. Ultra lightweight silnylon ripstop allows for visibility of contents. Quick grab handle. 1x10.5x14.5.
---