Eagle Creek Cable Tsa Lock
Small enough to fit in your pocket and flexible enough to go through hard-to-lock spaces, the Eagle Creek Cable TSA Lock lets TSA screeners get into your baggage for inspection without damaging your luggage zippers or the lock. . Accepted and recognized by the TSA (Travel Sentry Certified). Flexible cable fastener can be secured through multiple openings. Three-dial combination. Dimensions: 2.5 x 1 in. lock / 2.5 in. cable. Weight: 2.5 oz.
---
Related Products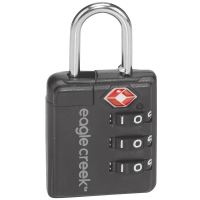 This ultra-light TSA Lock(R) is ultra-smart. Don't let anything stop you from keeping your personal items unprotected when in transit. . . . Travel Sentry(TM) Certified. . Ultra-light 3-dial combination lock. . Personalized combination setting allows...
---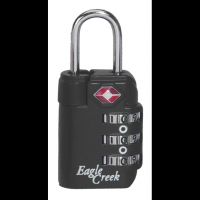 Travel safe and secure with Eagle Creek's Travel Sentry certified locks. Airport-security screeners have a secured set of codes and tools to open these locks for inspection, when necessary, without damaging the locks. Accepted and recognized by the TSA...
---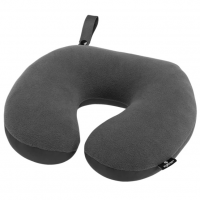 This super versatile 2-in-1 Travel Pillow can be enjoyed as a neck pillow or in a standard rectangular shape - offering you versatility everytime you travel. The super-soft filling provides custom support, which means you'll arrive at your destination...
---