Cold Steel Rajah II Folding Knife,6in Plain Carpenter AUS 10A w/Stonewash Finish, Black Griv-Ex Handle
Cold Steel Rajah II Folding Knife6in Plain Carpenter AUS 10A w/Stonewash Finish Black Griv-Ex Handle. We've made different variations of the Kukri over the years some with longer blades and some with shorter but never until now have we had a version you could carry in your pocket as a folder. The Rajah folders designed by Andrew Demko are big enough to approximate the feel and heft a fixed blade Kukri. Their broad downward curved blades exhibit the best of a Kukri's characteristics. First their unique shape presents their thin hollow ground edges at just the right angle so they naturally bite deep instead of bouncing or skidding off. And secondly their points are thick wide and sharp enough to pierce even the toughest targets. The handle has some of the contours of fixed blade Kukri's with the addition of strategically placed curves and finger grooves. These features will facilitate 3 grip styles. One - very close to the cutting edge where you can really choke up on the handle for fine or delicate work. Two by the middle for ordinary chores. And three near the end or butt where you will have the most leverage and weight forward balance for heavy cutting or chopping and where you will receive maximum reach advantage. The only suitable lock that can sustain the incredible impact forces generated by chopping strokes with a Rajah folder is our new TRI-AD lock. Designed specifically to take pressure off the smaller more fragile interlocking surfaces of a rocker lock and transfer them to a uniquely positioned stop pin that will absorb and distribute these forces through the handle frame.
| Stockist | Catalogue Product Name | Price | |
| --- | --- | --- | --- |
| CampSaver | Cold Steel Rajah II Folding Knife,6in Plain Carpenter AUS 10A w/Stonewash Finish, Black Griv-Ex Handle | 109.79 | |
Price:
109.79 from
CampSaver
---
Related Products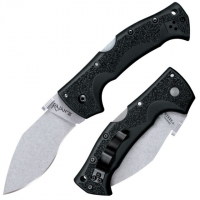 Cold Steel Camp & Hike Rajah III Folding Knife3.5inAUS10A Steel Blade Black Griv-Ex Handle 62JM. Designed by custom knife maker Andrew Demko the Cold Steel Rajah series has proven to be both fan favorites and instant classicsAvailable in two sizes their...
---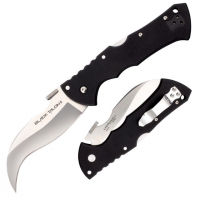 Black Talon Folder Plain Edge Folding Knife 4in Carpenter CTS XHP Alloy Blade Black Long G-10 Handle. Handmade and limited edition it featuring a modified curved talon blade made from Japanese San Mai steel a sleek titanium frame with G10 scales and -...
---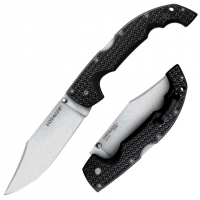 Cold Steel Voyager XL Folding Knife5.5inClip Point Plain EdgeAUS10A Steel Blade Black Griv-Ex Handle. Lightweight comfortable and super sharp they are rugged dependable and perfect for hunting and camping as well as general utility and daily cutting chores....
---