Catskill Day Hikes For All Seasons
Explore the beauty of the Catskill Mountains' summits, cascading falls, and dramatic rocky notches any time of the year with Carol and David White's Catskill Day Hikes for All Seasons. Describes 60 day hikes throughout the Catskill Mountains, a 700,000-acre park in southeastern New York. Hike descriptions include directions to the trailhead, total distance, summit elevation, and difficulty rating. Includes information on hiking with children, seasonal concerns, and regional attractions. 2002, 1st edition; 176 pages. 5.5 x 8.5 x 0.5 in.
---
Related Products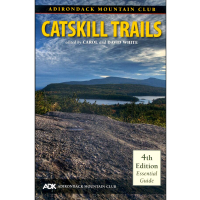 The ADK Catskill Trails Guide Book is a must-have for any hiker or backpacker visiting the Catskill region. . Guidebook is coordinated with National Geographic Trail Map #755 (not included). Each trail is keyed to indicate its location on Map #755. Supplies...
--- This book includes more than 60 maps, 50 photographs, detailed directions, a guide to local outfitters and paddling organizations and many, many more!. . . Publisher: Black Dome Press, Corporation. Pages: 320. Product dimensions: 6.00 (w) x 8.90 (h)...
---
This topographical map covers the 46 highest peaks in the Adirondacks. Made from waterproof paper. Author: Adirondack Mountain Club. Editions: 15. Waterproof. Tear-resistant. Shipping weight: 1 lb.. Spot clean. Imported.
---