Bug Band Repelent Wristband Clip Strip
Bug Band Bug Repellent Repelent Wristband Family 4pk 88206. The vapors from the plastic BugBand wristband form a protective shield around the immediate area keeping insects a safe distance away. While many repellents are easily diluted or rinsed off with swimming or perspiration the wristband just keeps working up to 120 hours per arm band. Repels mosquitoes gnats fleas and n-see-ums. Contains Geraniol which has been tested to be more effective than Citronella. There is a breakaway feature for added safety. The bands are packaged in an innovative reusable plastic pod which can be used to store the wristband and can be sealed between uses to preserve the active life of the product. It can be worn on wrist ankles belt loops hatbands pet collars fastened in tents attached to baby carriages or applied to other areas where insects could be a problem. Several wristbands can be strung together to create a longer band. A good choice for recreational and lighter-duty applications the BugBand Family 4-Pack contains 3 assorted color wristbands and 1 glow-in-the-dark wristband.
| Stockist | Catalogue Product Name | Price | |
| --- | --- | --- | --- |
| CampSaver | Bug Band Repelent Wristband Clip Strip | 4.95 | |
Price:
4.95 from
CampSaver
---
Related Products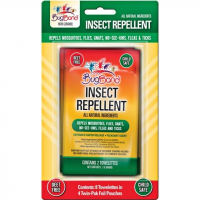 Bug Band Bug Repellent Bugband Towelettes 4 Pk 88512. The BugBand spray lotion does not contain any propellants but relies on a highly effective metered pump sprayer to dispense a fine mist over the area to be treated. Perfect for when you need more heavy-duty...
---