Black Diamond Focus Climbing Harness
Built for hard duty on multi-pitch routes and all-day cragging sessions, the 3-season Black Diamond Focus Harness features the optimal balance of comfort, support and light weight. . The Dual Core waistbelt uses two thin bands of webbing and a venting foam insert to Pre-threaded Forged Speed Adjust waistbelt buckle. Leg loops are constructed with a single strand of high-tensile nylon for added support and comfort while hanging in the harness. Pressure-molded gear loops hold enough cams and draws for rope-stretching pitches. Bombshell abrasion patches for unparalleled durability-20 times more durable than nylon. Adjustable, releasable elastic risers. 12 kN-rated haul loop.
---
Related Products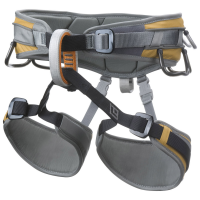 The ultimate big wall, aid climbing harness, the new Black Diamond Big Gun is loaded with features to make your long days laboring in the vertical more comfortable and efficient. Organization of monster nailing racks is simple on the Big Gun's seven color-coded...
---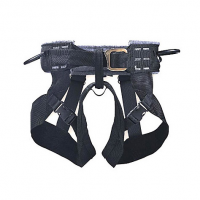 The simple, swami-style Bod Harness from Black Diamond is inexpensive, comfortable, and quite easy to use. . Padded with soft Synchilla polyester fleece for comfort and moisture wicking. Quick-release leg loops provide easy in and out. Four gear loops...
--- Lightweight and minimalist, Black Diamond's classic Alpine Bod Harness features quick-release leg loop buckles for easy on/off without removing your crampons, or even your skis. . Weighs only 14 ounces (medium); great for ski mountaineers and ice climbing....
---