Black Diamond Focus Climbing Harness
Built for hard duty on multi-pitch routes and all-day cragging sessions, the 3-season Black Diamond Focus Harness features the optimal balance of comfort, support and light weight. . The Dual Core waistbelt uses two thin bands of webbing and a venting foam insert to Pre-threaded Forged Speed Adjust waistbelt buckle. Leg loops are constructed with a single strand of high-tensile nylon for added support and comfort while hanging in the harness. Pressure-molded gear loops hold enough cams and draws for rope-stretching pitches. Bombshell abrasion patches for unparalleled durability-20 times more durable than nylon. Adjustable, releasable elastic risers. 12 kN-rated haul loop.
---
Related Products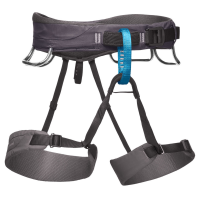 For all-around climbers who know that time spent fiddling with leg loops and adjusting a pinching waistbelt is time wasted, the Black Diamond Momentum delivers a time-saving design for all styles of climbing. A pre-threaded Speed Adjust waistbelt buckle...
--- Designed to satisfy the needs of the most discerning ounce-counters, the Black Diamond Vision Harness is a full-featured ultralight harness built for pushing the limits in the high, cold and loose. Clocking in at less than 250 grams, the Vision
---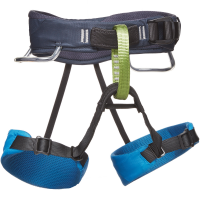 A decked-out kids' harness built for up-and-coming rock monkeys, the Kids' Black Diamond Momentum packs all the features of Black Diamond adult harnesses in a smaller size. Just like the adult versions, the Kids' Momentum features Dual Core Construction,...
---