Amk Sol Thermal Bivy
Whether your day hike has turned into an overnight survival situation, the power goes out in your home in cold weather, or your car is stranded in a snowstorm, the SOL Thermal Bivy will help keep you warm and protected from the elements. Can also be used as a warm-weather sleep system. Reflects up to 80% of radiated body heat to help keep you warm and dry in emergency survival situations. Thermo-Lite nonwoven fabric is waterproof and windproof. Year-round use: ideal ultralightweight, compact replacement for your sleeping bag when temperatures are above 50degF/9degC. Ultralight stuff sack allows you to store the bivy before and after use. Size: 84 x 36 in.. Weight: 8.1 oz..
---
Related Products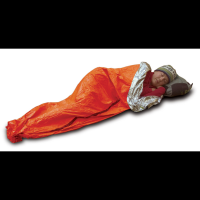 Adventure Medial Kits SOL Emergency Bivy fits in the palm of your hand and only weighs 3.8 oz! Ideal for those occasions when you take a wrong turn and are forced to spend the unexpected night out. Measures 84 x 36 in. AMK Heatsheets Bivvy Video . . ....
---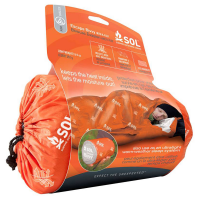 The Adventure Medical Kits Escape Bivy combines breathability, body heat reflectivity, and water resistance for the most fully featured backcountry emergency shelter from SOL. Reflects your body heat back to you to help keep you warm. Highly breathable...
---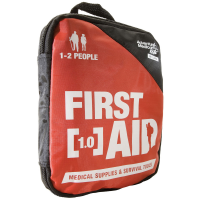 Quickly treat cuts, scrapes, sprains and bug bites with the Adventure First Aid 1.0 Kit. Equipped with a wide range of medical supplies and a convenient travel case, this kit is exactly what you need to easily treat wounds during backcountry exploration....
---