Amk Sol Escape Pro Bivvy Blanket
The Escape Pro Bivvy evolutionary material provides dry, warm comfort you can trust. Engineered to be breathable, waterproof and heat reflective, the Escape Pro allows condensation to escape while keeping the elements locked out and the heat in. As humidity in the bivvy increases, the bivvy becomes more breathable and maintains its waterproofness. Use it as a protective barrier for your sleeping bag and add 15degF (9.4degC) of warmth by reflecting 90% of your body's heat back to you. On evenings above 50degF (10degC), leave your sleeping bag at home and travel ultra-light. At only 8 oz. (227 g) and with its compact design, it's one little bivvy you can depend on! Seams are taped for 100% waterproof seam construction and material to keep you dry during those damp nights in the backcountry. Evolutionary Material Provides Dry, Warm Comfort You Can Trust. Breathable, Waterproof and Heat Reflective. Allows Condensation to Escape, Keeps Elements Locked Out and Heat In. When Humidity in Bivvy Increases, Bivvy Stays Breathable and Maintains Waterproofness. Protective Barrier for Sleeping Bag, Adds 15degF (9.4degC) of Warmth. Reflects 90% of Body's Heat Back to You. 50degF (10degC): Use to Sleep as a Standalone Blanket. Weight: 8 oz. (227 g). Seams: Taped for 100% Waterproof Constructed Material. Keeps You Dry During Damp Nights. Group Size/Trip Duration: 1-Person/Multiple Days. Survival: Yes. Imported.
---
Related Products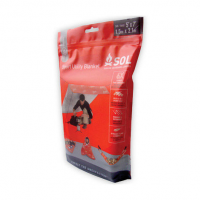 Up to any task, the SOL Sport Utility Blanket can handle a variety of tasks-use it as an emergency blanket, a shelter, a picnic blanket, a ground tarp underneath a tent, a cover for gear in foul weather, or to haul heavy loads.. . . . Weighs only 11.3...
---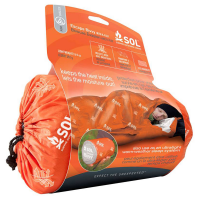 The Adventure Medical Kits Escape Bivy combines breathability, body heat reflectivity, and water resistance for the most fully featured backcountry emergency shelter from SOL.. . . . Reflects your body heat back to you to help keep you warm. Highly...
---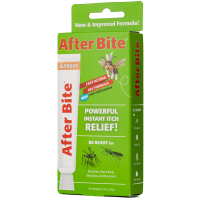 After Bite(R) Outdoor is a powerful treatment that provides immediate relief from insect bites and stings. Extra strength gel contains antihistamine and tea tree oil to soothe the skin and stop the itch and pain. Keep After Bite(R) at home, in your car,...
---