Amk Sol Escape Bivy
The Adventure Medical Kits Escape Bivy combines breathability, body heat reflectivity, and water resistance for the most fully featured backcountry emergency shelter from SOL. Reflects your body heat back to you to help keep you warm. Highly breathable proprietary fabric lets interior moisture/perspiration escape to keep you dry-no condensation build-up to wet your clothes and rob your body of warmth. Windproof and water resistant-keeps rain, snow, and wind on the outside. Waterproof seams and drawstring hood allow you to seal out the elements-can also be used like a traditional sleeping bag. High-visibility orange exterior makes it easy for rescuers to spot you-even in areas with high tree cover. Ideal for camping, backpacking, kayaking, canoeing, climbing, cycling, mountain biking, adventure racing, and home emergency kits. Bivy size: 36 x 84 in. (91.44 x 213.36 cm). Weight: 8.5 oz. (241 g)
---
Related Products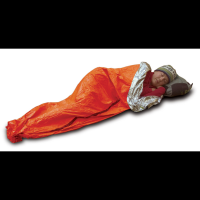 Adventure Medial Kits SOL Emergency Bivy fits in the palm of your hand and only weighs 3.8 oz! Ideal for those occasions when you take a wrong turn and are forced to spend the unexpected night out. Measures 84 x 36 in. AMK Heatsheets Bivvy Video . . ....
---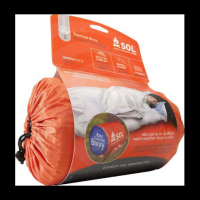 Whether your day hike has turned into an overnight survival situation, the power goes out in your home in cold weather, or your car is stranded in a snowstorm, the SOL Thermal Bivy will help keep you warm and protected from the elements. Can also be used...
---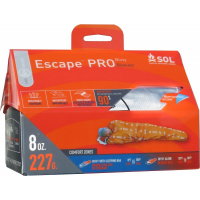 The Escape Pro Bivvy evolutionary material provides dry, warm comfort you can trust. Engineered to be breathable, waterproof and heat reflective, the Escape Pro allows condensation to escape while keeping the elements locked out and the heat in. As humidity...
---