Amk Sol 2-Person Survival Blanket
Adventure Medical Kits SOL Survival Blanket fits 1 or 2 people, reflects up to 90% of radiated body heat, and features survival and first-aid instructions printed directly on the blanket. Fits 1 or 2 people. Reflects up to 90% of radiated body heat to help keep you warm. Heatsheets polyethylene material is quieter and more durable than traditional reflective blankets-rip resistant and easily repairable. Features a bright orange stripe-an easy to spot universal distress color for rescue. Survival and first-aid instructions printed directly on the blanket-youll have them when you need them. Flat shape makes it easy to pack. Size: 96 x 60 in.. Weight: 2.88 oz.. AMK Heatsheets Survival Blanket Video
---
Related Products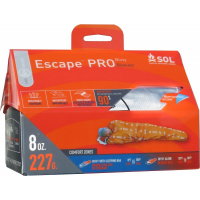 The Escape Pro Bivvy evolutionary material provides dry, warm comfort you can trust. Engineered to be breathable, waterproof and heat reflective, the Escape Pro allows condensation to escape while keeping the elements locked out and the heat in. As humidity...
---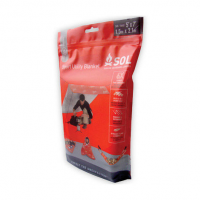 Up to any task, the SOL Sport Utility Blanket can handle a variety of tasks-use it as an emergency blanket, a shelter, a picnic blanket, a ground tarp underneath a tent, a cover for gear in foul weather, or to haul heavy loads. Weighs only 11.3 oz. (320...
---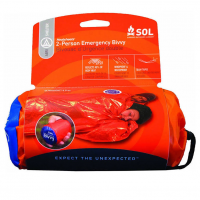 In the event you're forced to spend an unexpected night outside in cold temperatures, put the odds of survival in your favor with this Emergency Bivvy. Made from the same material as Adventure Medical Kit's renowned emergency blankets, this Bivvy reflects...
---