Amc River Guide, Ma, Ct And Ri
From challenging white-water rapids to serene streams, this guide is ideal for canoeists and kayakers of all abilities. Completely updated and revised, its easy-to-use format makes river selection and trip planning effortless. Rivers and their tributaries are listed by watershed and are broken down into segments of reasonable length for enjoyable trips. Simplified tables summarize significant information about each segment of the river, levels of difficulty, recommended water level, and the seasons or conditions in which it occurs. Maps, directions, distances for portages, total trip distance, and scenery. Descriptive text gives essential information on access, landmarks, and cumulative distances from the starting point. Paperback; 256 pages; measures 5 x 7 inches; 3rd edition.
---
Related Products
Detailed river descriptions and an easy-to-use format make river selection and trip planning for nearly 4,000 miles of Maine rivers effortless. Ideal for canoeists and kayakers, both touring and whitewater. Covers 149 rivers and their tributaries. Maps;...
--- Get your boat and get ready to develop a new appreciation for the Charles River. The Charles River Canoe and Kayak Guide, a Charles River Watershed Association publication, will take you from one end of the river to the other, whether you want to do it...
---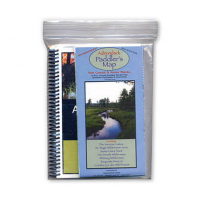 If you're ready to take on the waters of the Adirondacks, the Adirondack Paddler's Guide/Map Set is for you. This comprehensive set includes the Adirondack Paddler's Guide: Finding Your Way by Canoe and Kayak in the Adirondack Park by Dave Cilley and...
---