Adk High Peak Trails
Now in its 14th edition, ADK's High Peaks Trails is the most comprehensive trail guide available for the High Peaks region. . Details the 46 highest peaks in the Adirondacks; trails in the Lake Champlain region and trails further to the north are new to this edition. Numerous new trails have been added, including popular hikes up Lyon Mt. and Cheney Mt.. Provides complete information on rules and regulations, directions to the trailhead, parking information, trail mileages, elevation changes, and all essential navigational information. Each trail is keyed to indicate its location on Trails Illustrated Maps 742 and 746. Edited by Tony Goodwin and David Thomas-Train; published by the Adirondack Mountain Club. 2012, 14th edition; 281 pages. 5.5 x 8.5 in.
---
Related Products Get your bearings and explore the beauty of the High Peaks with this handy map from the Adirondack Mountain Club. . Covers all of the trails in the High Peaks region. Printed on water-resistant paper. Folds to pocket size. Edited by Tony Goodwin; published...
---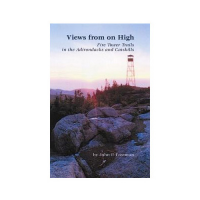 There's something inherently fascinating about fire towers, and there are plenty of them to visit in the Adirondacks and Catskills. Views from on High: Fire Tower Trails in the Adirondacks and Catskills, by John P. Freeman, will guide your journey to...
---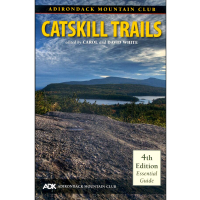 The ADK Catskill Trails Guide Book is a must-have for any hiker or backpacker visiting the Catskill region. . Guidebook is coordinated with National Geographic Trail Map #755 (not included). Each trail is keyed to indicate its location on Map #755. Supplies...
---
Tony Goodwin. Guide To Adk High Peaks Trail. Mid-Atlantic Hiking/Backpacking Guides.
---
Author: David Thomas-Train. ISBN: 1931951233.
---
Used Book in Good Condition.
---
ADK Adirondacks Mountains is a retro design sweatshirt for the Adirondacks in Upstate New York.. Wear this sweatshirt to the Adirondack Mountains and into the High Peaks. Great gift for a hiker, trail runner, ice climber or cyclist.. 8.5 oz, Classic fit,...
---
NON-SLIP, DURABLE- Home, living room, bathroom, kitchen,indoor,outdoor can be used.. SOFT, SKIN-FRIENDLY- Free to twist, fold, not easy to deformation.. EVA ENVIRONMENTAL PROTECTION MATERIAL- Health, Non-toxic, quick drying, breathable, easy to clean,...
---