60 Hikes Within 60 Miles: New York City
60 Hikes Within 60 Miles: New York City, by Christopher and Catherine Brooks, describes the best day hikes and walks within an hour of the city, including northern New Jersey, southwestern Connecticut, and western Long Island. Describes 60 trails suitable for hikers of all ability levels within a hours drive of NYC; trails range from one mile to more than 12 miles. "Hiking Recommendations" list at the front of the guide separate hikes into different categories like "Historic and Ruins Trails" and "Solitudinous Hikes" so you can pick a trail at a glance. Each hike description includes a map, total distance, trail configuration (out-and-back or loop), difficulty rating, scenery, exposure, trail surface, driving directions, and nearby/related activities. 2008, second edition, 366 pages. 9 x 6 x 0.75 in.
---
Related Products Need to get out of the city this weekend? Pick up a copy of Take a Hike New York City: 80 Hikes within 2 Hours of Manhattan, by Skip Card, and start planning! This guidebook is sure to please everyone, with trails ranging from short, flat, family-friendly...
---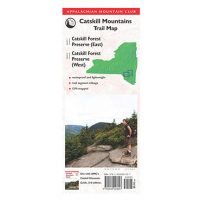 Made of waterproof and tear-resistant Tyvek, the AMC Catskill Trail Map contains all the information you need for planning and following the perfect route. . Waterproof, tear-resistant Tyvek construction. Comprehensive GPS rendered trail map. Features...
--- For over 50 years, AMC's Maine Mountain Guide has been the trusted resource for the state's hikers. This new edition has been thoroughly revised and updated, featuring 200 new trails, expanded coverage of Baxter State Park and Acadia National Park, and...
---
Used Book in Good Condition.
---
60 HIKES W/IN 60 MI: NYC.
---