2XU Women's Thermal 3/4 Compression Tights
To ward off leg fatigue and soreness during training or racing, look no further than the 2XU Women's Thermal 3/4 Compression Tights. Made with PWX technology, and brushed to keep you cozy, these tights will keep you feeling fresh so you can train harder longer...even if it's a little chilly out. . High power denier offers support to hamstrings, quads, abductors, and glutes to reduce muscle fatigue damage. PWX compression fabric features high grade elastomeric yarns and a superior grade knit structure to allow 360deg stretch for optimal flexibility and movement; brushed to provide a softer, warmer feel on your skin. Allows for greater regulation of your core body temperature to enhance comfort and warmth during cold-weather training. Graduated fit promotes increased circulation to move more oxygen to your muscles, flush out lactic acid more efficiently, and speed recovery. Flatlock seam construction ensures absolute comfort. UPF50+ keeps you protected from the suns harmful rays.
---
Related Products Ideal for snowsports and cold-weather training, the 2XU Thermal 3/4 Compression Tights deliver powerful support for the upper leg muscles, along with the warmth of a brushed inner layer. . Lightly brushed fleece interior fabric provides added warmth and...
---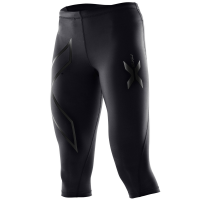 Ideal for everything from running and hiking to gym sessions and crossfit, the 2XU Women's Compression 3/4 Tights wrap and support the major muscle groups to help them fire more efficiently while protecting them from damage and fatigue. . High power denier...
--- Featuring a brushed inner layer, the 2XU Thermal Compression Top supports the upper body muscles, while providing warmth and unrestricted movement for cool-weather training, competition, or recreational activities. . Lightly brushed fleece interior fabric...
---
Benefits: graduated compression increases blood circulation for improved recovery and reduced muscle stiffness post exercise | protects the glute, hamstring, quads and calf muscles. Features: muscle containment stamping (MCS) is targeted to the calf for...
---