Merchant A-Z
Eastern Mountain Sports (81 to 90 of 5349)
---
---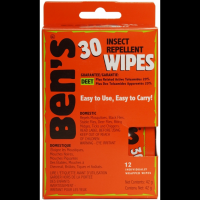 Easier and faster to apply than sprays or lotions, Ben's 30 Insect Repellent Wipes with 30% DEET allow you to control exactly where and how much repellent you apply to your skin. Contains 12 individually wrapped wipes; ideal for hiking, running, and travel....
---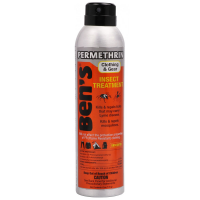 CAMPING/BACK PACKING > SKIN PROTECTION > CAMP BUG DOPE: Amk Ben's Clothing And Gear Repellent
---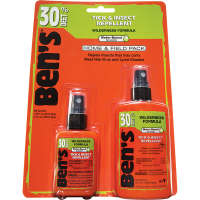 Ben's Home and Field Insect Repellent Pack has you covered, with a 4 oz. bottle for the house, long trips, and big groups. It also comes with a convenient 1.25 oz. fit-anywhere bottle to take with you. Don't get bitten, get Ben's!. . . . Contains one...
---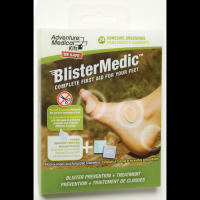 --- Wilderness medicine goes beyond blisters and Band-Aids. That's why Adventure Medical kits are designed with the wisdom and experience of Dr. Eric Weiss, an emergency department doctor who adventures just like you. Ideal for trip durations of up to 28...
---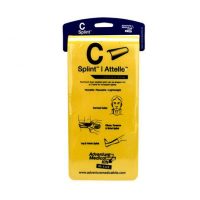 Versatile and lightweight, the AMK C-Splint is a terrific addition to any first-aid kit. Extremely strong and supportive, it can also be shaped and cut to fit any fractured limb. Pliable thin core of aluminum alloy, sandwiched between two layers of closed-cell...
--- Quickly administer first aid with Adventure Medical's well-organized and popular first aid kit. Holds enough supplies for an extended adventure. Excellent value for a package so loaded with supplies. Supplies one person for a two-week adventure or a group...
---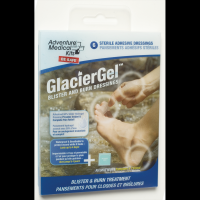 GlacierGel Blister and Burn Dressings by Adventure Medical Kits are waterproof, breathable adhesive gels that are highly cushioning, cooling, and absorbent - provide instant and complete pain relief for blisters and burns. Contain 50% water: provides...
--- With enough blister prevention and treatment plasters for a large group expedition or just to resupply your personal kit, the Moleskin Kit from Adventure Medical will keep your feet happy and your hike enjoyable. 22 bandages of varying shapes and sizes....
---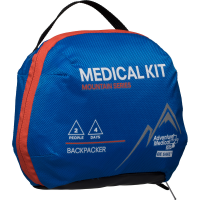 The Backpacker is designed for a pair of outdoor explorers on a four-day foray into the wilderness. Outfitted with a handpicked assortment of first aid supplies designed to help your short adventure go smoothly, it contains remedies for a range of conditions
---