Merchant A-Z
BioLite (1 to 10 of 55)
---
---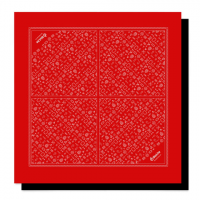 Made from 100% cotton (softest feel option) and printed using eco-friendly waterbased inks, these handy bandanas are ready to wipe the sweat from your brow or wrap around a cold brew -- it's a welcome addition to any pack.Standard bandana size, measuring...
--- The BaseCamp converts heat into usable electricity for large-format cooking and charging. Using only fallen branches or small pieces of firewood, make wood-fired meals and charge devices all at the same time. It's a smart alternative to fossil-fueled...
--- Meet the world's first flatpack lantern that combines breakthrough edge-lighting with Bluetooth connectivity to bring you a portable lighting solution that doubles as your own miniature smartgrid. No bigger than a sandwich, the BaseLantern can light large...
--- The world's first flatpack lantern combines breakthrough edge-lighting with Bluetooth connectivity to bring you your own miniature smartgrid. Featuring a 12000 mAh rechargeable li-on battery, the BaseLantern XL offers big power to light large group settings...
---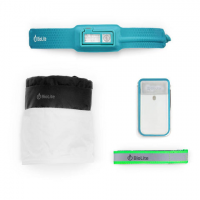 Bike To Work Month Special: See and be seen with this limited-edition kit designed to make "oh, I forgot my bike light!" a thing of the past. Hurry, this bundle is around for the month of May only.HeadLamp Features Red Night Vision and White StrobeHeadLamp...
--- Go for the long burn with this premium blend of all natural, food-safe hardwood pellets. FeaturesSingle bag provides two hours cooking time with minimal refuelingProvides hot strong fire to cook meals or use as easy backup when camping in damp environmentsFor...
---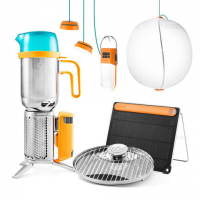 The Best Deal On Our Top Sellers. Build out a complete off-grid ecosystem with this modular kit of wood-fired cooking, portable solar charging, and outdoor USB lighting: FeaturesKit Includes: CampStove 2, Portable Grill, KettlePot, SolarPanel 5+, PowerLight,...
--- This 3 color printed Tee is worn by the BioLite team all over the world and features a poly-cotton blend that is pre-laundered and super comfortable to wear. After years of requests from the BioLite community, we're finally making it available to anyone...
---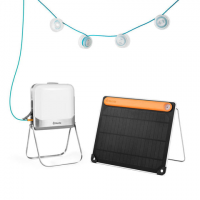 Light your site, charge your gear, and have some power to spare with this packable combination of light and solar. Unlock a hub for your site with the Bluetooth BaseLantern XL and extend your perimeter with the easy to use (and 2017 runaway favorite)...
--- Turn fire into electricity with BioLite's award-winning stove. Patented combustion technology creates a vortex of smokeless flames for a portable campfire that can cook your meals and charge your gear, all at the same time. Leave the gas canisters behind...
---