Brand A-Z
Zoggs (1 to 5 of 5)
---
---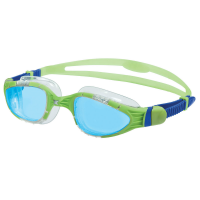 For pools and outdoor swimming, these goggles perform up to par with a flexible design and anti-fog lenses. Flexpoint(TM) technology gives a close fit, creating a watertight seal in the process, and for a clear view, tinted, anti-fog lenses make sure...
--- Designed for style and comfort, the Splash Swim Goggles are ideal for summer days at the pool. Their silicone frame features adjustable straps and long seals that mold to small faces for the perfect fit. UV blocking anti-fog lenses keep vision crystal...
--- Perfect for triathlons or recreational open water swimming, the Zoggs Phantom Elite Polarized Goggles provide superior fit, style, and performance. . Womens flexible soft frame molds to your face for better fit and comfort. Polarized Italian lenses protect...
--- An upgrade variation of Zogg's original soft frame goggle that was introduced in 1993, the Phantom Elite flexes to your face to provide a very comfortable fit. The 180 degree vision is perfect for open water swimming and Fogbuster anti-fog keeps the lenses...
--- Mirror coating over tinted 180 degree lenses make these goggles one of the best looking goggles at any pool. However, the Podium is all about performance, featuring a low profile fit with rolled soft liquid silicone seals to reduce drag and increase comfort....
---
High leg. Slim straps for clase aqua dynamic fit. Straps draw away from the shoulder for superb flexibility. 100% chlorine resistant aqualast fabric. 53% Polyester 47% PBT Polyester.
---
Medium leg. Open Flyback provides enhanced freedom of movement. Thick supportive straps. 100% chlorine proof Aqualast fabric. 53% Polyester 47% PBT Polyester.
---
Ladies swimming costume. Square neck. Square back. Wide straps. Built in padded cups.
---
---
V Front lined for comfort and modesty. Drawstring waist. Durable fabric resistant to snagging. 100% chlorine resistant aqualast fabric. 53% Polyester 47% PBT Polyester.
---