Brand A-Z
Topeak (1 to 10 of 19)
---
--- FeaturesLarge, easy-to-read analog pressure gauge Pressure-Rite valve prevents air loss during removal Head Pressure-Rite Shock Valve Barrel Aluminum Gauge Analog Pressure Tuning Air Release Button Handle Plastic/Kraton Capacity 300 psi/ 20.7 bar...
--- This metal basket easily mounts to the front of your bike, providing the capability to carry groceries, run errands, and bring other small items along on your journey. . Made out of welded metal wire. . 16L/975 cu. in. capacity. . Attaches via QuickClick(TM)...
--- With 26 tools packed into it, the Alien II is basically a toolbox in your pocket or backpack. No matter what happens, you can fix just about anything that might break along the way.. . Chain tool and chain hook for chain repairs. 15 MM. pedal wrench...
--- Carry cargo and attach panniers to your bike with ease using this MTX Dual Side Rack Frame. Designed for use with Topeaka (TM)s MTX BeamRacks, this frame is made of lightweight yet sturdy aluminum, and includes installation hardware. . . . Aluminum....
---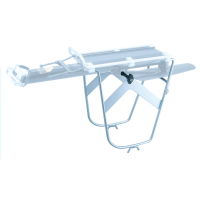 Lightweight aluminum side frames are designed to fit on MTX Beam racks and use with MTX trunk bags equipped with panniers (DXP and EXP models). Utilizing this frame will stabilize panniers and prevent them from going into rear wheel. FeaturesMade of...
--- --- Designed to easily mount with the MTX QuickTrack(TM) system, the MTX Rear Basket quickly attaches to your bike and carries your essentials while you're running errands around town. . . . Welded metal wire. . MTX QuickTrack(TM) system enables quick attachment....
--- Whether you need storage space for errands or youre packing for a biking trip, the MTX Trunk Bag DX mounts to your rear rack so you can bring the necessities required for the adventure of your choosing. Attaches to your bike via a Topeak MTX QuickTrack(TM)...
--- Pack up for the long ride ahead with the MTX Trunk Bag. Attaching via the QuickTrack system, it stores your essentials with a divided main compartment made out of rigid yet flexible water-repellent fabric. For even more storage options, various compartments...
--- Bring your bike out to ride the trails with this trunk bag. Working with the QuickTrack(TM) system, it couples DryBag technology with waterproof polyester, welded, water-tight seams, and a roll-top closure to keep out the elements. Further, EVA foam adds...
---