Brand A-Z
Thermacell (1 to 10 of 10)
---
--- Extend the time your ThemaCELL Backpacker mosquito repeller fends off biting bugs with the 24-hr. Thermacell Backpacker mosquito repellent refill mats.
--- Using heat generated by your backpacking stove fuel canister, the compact and lightweight Thermacell Backpacker Mosquito Repeller effectively repels mosquitoes by creating a 15 ft. protection zone.
--- Make the virtual bubble of bug-free bliss you enjoy from your Thermacell repeller, lantern or torch last longer with 3 repeller mats and 1 butane cartridge in the Thermacell Mosquito Repeller refills.
--- Make the bug-free zone that your Thermacell repeller, lantern or torch creates last longer with 12 repeller mats and 4 butane cartridges in the 48 hr. Thermacell Mosquito Repeller refills.
--- Fend off the bane of biting bugs wherever you wander. The lightweight and portable Thermacell MR150 mosquito repeller surrounds you with a 15 x 15 ft. zone of protection from insects.
--- The Thermacell Patio Shield mosquito repeller provides a 15 ft. mosquito protection zone-just turn it on and mosquitos are gone. With no scent, smoke or mess, it's ideal outdoor entertaining.
--- As effective on your backyard patio as it is in remote wilderness, the Thermacell Radius Repeller refill can be used with the Thermacell Radius (sold separately) to repel mosquitoes for up to 12 hrs.
--- Mosquito protection at the push of a button, with no messy lotions, sprays, scents or DEET? Right this way. The Thermacell Radius Zone Repeller treats the area around you, rather than your skin.
--- Want a virtual force field against biting insects? The Thermacell Scout Mosquito Repeller Camp lantern creates a 15 x 15 ft. zone of bug-free bliss-and lights up the night at the same time.
---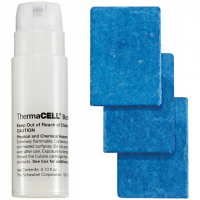 ThermaCELL Bug Repellent Therm Max Life Refill 48hr 4pk L4. Mats should be replaced after 4 hours of use. Butane cartridges last up to 12 hours each.
---