Brand A-Z
Spyderco (1 to 10 of 14)
---
---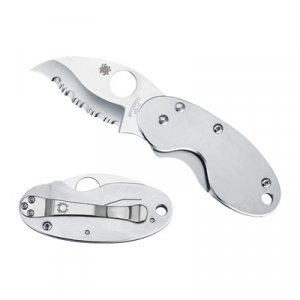 The Cricket from Spyderco features a super thin profile as a result of integrating the handle and lock. In doing this, thickness and bulk are shaved off the handle for an ultra-thin folder that locks up confidently with fewer moving lock parts. The Spyderco...
---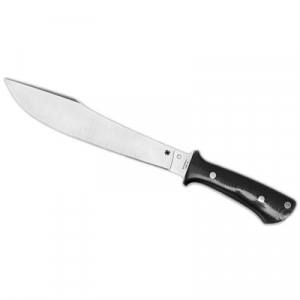 The Spyderco Darn Dao Flash Batch knife emerged from the mind of custom knife designer Bob Lum, who created the blade with inspiration from the swords used in classic Chinese fighting styles. The Spyderco Darn Dao Flash Batch knife provides users with...
---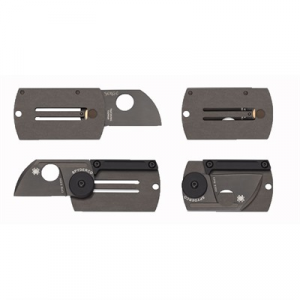 The Spyderco Dog Tag Folder knife is a non-traditional design from the company, taking inspiration from the footprint of a standard military dog tag for its construction and giving users a compact carry option. The Spyderco Dog Tag Folder knife, based...
---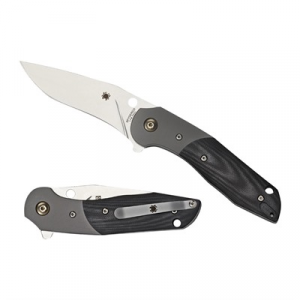 The Spyderco Hanan is a sleek folder that combines a flipper-style opener with Spyderco's patented Compression Lock mechanism. The Hanan features a slightly recurved, full-flat-ground blade crafted from CPM S30V Stainless Steel. The blade is purpose...
---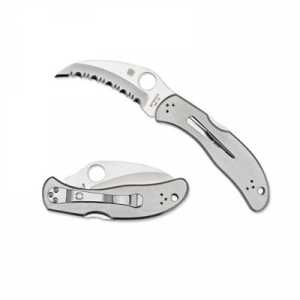 The Spyderco Harpy knife provides blade enthusiasts with a high-quality daily-use folding knife that is capable of being carried in multiple positions while having the ability tackle nearly any job needed by the user. The Spyderco Harpy knife is inspired...
---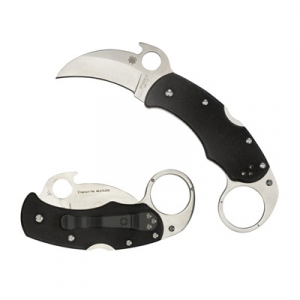 The Spyderco Karahawk G-10 Black series knife is tailor-made for users looking to balance every possible quality for a knife that will do everything you need it do in any situation. The Spyderco Karahawk G-10 Black series knife is constructed using a...
---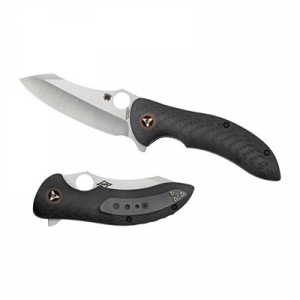 The Spyderco Magnitude is a highly refined LinerLock folding knife that offers impressive cutting performance and a full spectrum of one-hand opening options. In addition to a Kit Carson-inspired index-finger flipper, its blade also features a fully accessible...
---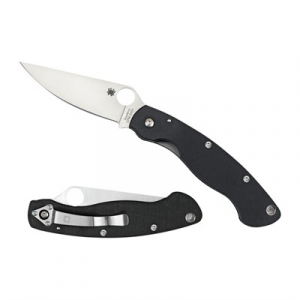 The Spyderco 'Millie' Military Model features a modified clip-point blade laser cut with a 14mm Spyderco Round Hole for quick deployment and for ease of use when wearing gloves. Texturing above the hole holds the thumb in contact with the blade's spine...
---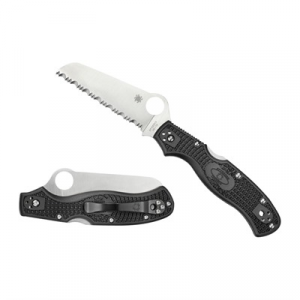 In 1991, Spyderco pioneered the concept of the first purpose-designed rescue knife by combining the safety of a sheepfoot blade profile, the cutting power of a serrated SpyderEdge, and the lightweight convenience of an FRN handle. The Spyderco Rescue...
---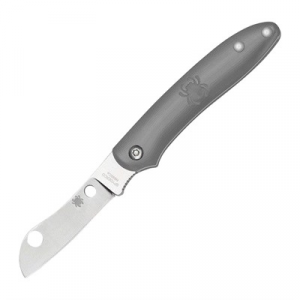 The Spyderco Roadie is a highly evolved penknife that is more practical and user-friendly than its historical predecessors. It's most distinguishing characteristic-the "Double Dent"-is a pair of symmetrical dimples in the blade that provide a solid purchase...
---